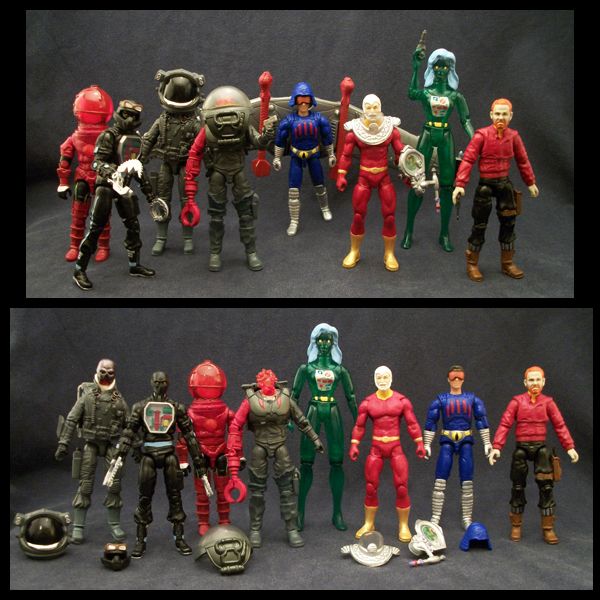 As a child in the Seventies, I had a bunch of the Fisher Price Adventure People, and they were much beloved toys of my youth. Particularly the outer space themed characters that debuted in or around '77 (a great year for toys!). Their personalities and motivations were never clearly defined but you could kind of tell who was supposed to be good and who was supposed to be bad from the color schemes. So I decided to do updated, articulated versions of some of my favorite Adventure People using modern 4 inch action figures for this contest. If you are from that era (or even just a fan of vintage toy-lines), then you might remember some of these guys or owned them yourself! Hope you dig it.

THE GOOD GUYS!

Space Commander - MU altered Cyclops body with a re-sculpted G.I. Joe Mutt head, shoulder harness accessory from a Justice League Wonder Woman, weapon/communicator accessory from a Lost In Space figure

X Ray Woman - Re-painted Invisible Woman figure (painted with transparent green so she maintains the translucent quality that made the original figure so awesome). She is slightly out of scale but seeing as how the character is a robot, "female," and women are typically more diminutive than men, this difference in scale works in this context to turn conventional reality into something more fantastic, and adds an extra dimension to the character. In this alternate universe she is for all intents and purposes, a giant that towers over both her comrades and enemies.

Astro Knight - Not exactly sure but I *think* his torso is from a vintage Sci Fi, his legs are from a 90's Kamakura, his hip piece is from a vintage Croc Master, and I believe his head is a 90's Wild Bill and the goggles are from a Han Solo figure. Not sure about his arms, glider (although obviously COBRA in origin), and helmet (looked to be some kind of samurai helmet)

D!ck The Mountain Climber - I included this character because I actually had one and played with him a lot when I was a kid. In this set I kind of imagine him to be the Han Solo/Wolverine-ish character that every team has to have. This attitude is reflected perfectly in the sneering expression of the WWE Chavo Guerrerro head that I used for his countenance. Torso is a dremeled down General Hawk Abernathy, legs are from a B.A.T., although his upper right thigh is from someone else who was wearing urban camo.

THE BAD GUYS!

Brainoid - Upper torso from a movie Storm Shadow, lower right arm cobbled together from a B.A.T. and a Lost In Space B-9 model kit, lower left arm from armored Cobra Commander. Legs from Iron Grenadier Destro. Head/Brain was re-sculpted from some kind of energy blast accessory, and painted with transparent red to retain luminescence. Helmet was made from the face-mask of a CTVT mego-esque helmet accessory.

Alpha Pilot - Upper torso from movie Storm Shadow, legs are I believe from Torch or one of the other Dreadnoks. Not sure about the arms, head, and vest but they are all from various COBRA soldiers (head was re-sculpted to be more "alien" in appearance). Helmet came from a semi-generic astronaut figure. The original vintage figure used to drive me crazy, wondering what the Pilot actually looked like inside his helmet (which was non removable with a black visor). So I've kind of scratched that proverbial itch for myself here haha.

Clawtron - Upper body from a B.A.T., used parts from a new one and a vintage one to complete his arms/claws. I suspect his head is an armored Cobra Commander, although if it isn't then it could be any one of a number of various Joes that are either a ninja or wearing a ski mask. Helmet from Mutt. Legs are from a few different sources, possibly parts of Hawk and Roadblock, sorry but I'm having trouble remembering the exact recipe here.

Opticon - ???? Not really sure about any of the parts here, except the head inside his helmet was made from an old Go-Bots figure, and the helmet itself is constructed out of a vintage Jabba The Hut's frog hookah thing. I took a lot of liberties with this character design, but I wanted Opticon to be more humanoid in appearance. The vintage figure looked more like a box with legs. However, I tried to keep the "feel" of the original character intact through this translation.