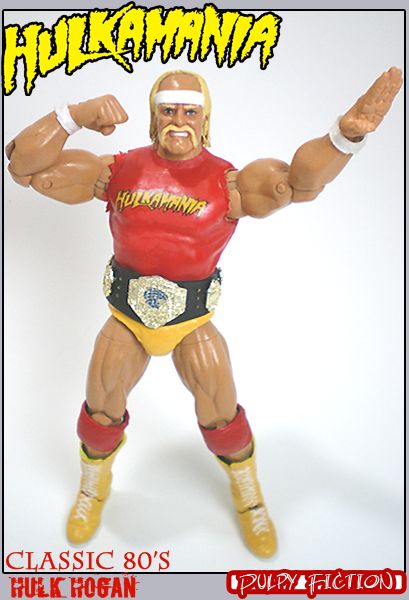 | | |
| --- | --- |
| Custom #: | 34058 |
| Name: | Classic 80's Hulk Hogan |
| Custom Type: | Action Figure |
| Toy Series: | Wrestling |
| Creator: | pulpyfiction |
| Date Added: | November 2, 2011 |
| Base Figure: | various |
| Height: | 7.00 inches |
YOU KNOW MEAN GENE... I didn't mean to do this. I got these pieces for fodder, but every time I looked in the box and saw the Hulkamania t-shirt torso... I kept hearing it call me. So I found myself trying to piece together a childhood memory. I don't follow wrestling, but when I was a kid Hulkamania ruled! I looked into it and there hasn't been a classic Hogan for the Mattel WWE Legends. Next thing I knew I was making one.

This is a 100% fodder custom, that was the challenge I gave myself for this one. He started with the old jakks pre-aggression wrestling figure torso. I used a pair of WWE Elite legs that were lying around. The boots were donated from a taken apart Mattel Legends Rick Rude, I had to dremil them down to fit the other wrestlers longer larger legs. The crotch piece is from a Jakks UFC Anderson Silva. The biceps and shoulder pegs were from a toy biz t.n.a. raven figure I had torn apart forever ago. These arm parts were chosen specifically to be big, but not super defined to get hogans look from the era. The lower arms were from some unknown wrestler, but you would never know. I had to completely re-sculpt over them to add the wrist wraps, and get the size to fit with the upper arms. Hands were from a Hasbro ML Doc Sampson, and alternate hands (for classic hogan pose-off) from a Neca street fighter. Lastly the head. I had one that came with the torso, but it looked like hogan now, and I wanted a classic Hogan. In a strange coincidence I was going through some boxes a couple of weeks ago, and came across two figures I found in a park a bunch of years ago. A Hasbro Million Dollar Man Ted Dibiase and a Hulk Hogan. I grabbed the Hogan and stole his head! With some dremil work to fit his neck and some sculpt work on the face and hair, I had my Hulk!
I painted a pair of Jakks deluxe aggression elbow pads for Hogans classic red knee pads. Then got a belt from another wrestler to give Hogan his Championship strap. I know it's not 100% accurate, but it was the best I had, and this is a fodder custom!
Next was a complete repaint, making sure to get the over tanned tone of the Hulkster! I used a gloss finish on the skin for a change to get that sweaty wet look, and add to that coco butter tan look as well. I just wish I had a little cross necklace for the final touch, but again this is a fodder custom, and I wasn't reaching out for any parts.

For something I never intended on doing it was a bit of work, but worth it, and totally inspired from that inner child that watched Hogan growing up.

Now HULKAMANIA is running wild on my shelf!