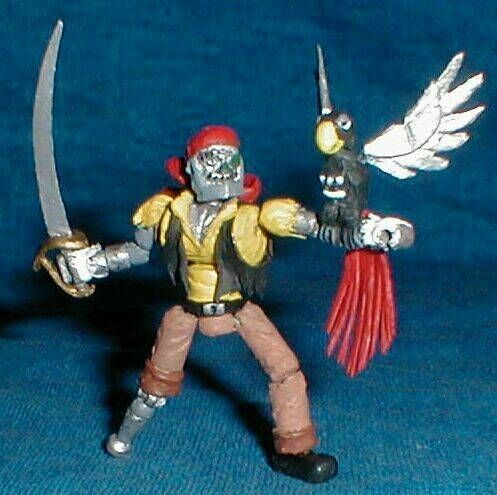 Captain Cracker is a notorious robotic buccaneer that was first introduced in the 23rd episode (Mandora and The Pirates) of the 1980s animated ThunderCats television series. He also appears in episodes 100 (Exile Isle) and 122 (Cracker's Revenge). The actor Earl Hammond provided the dastardly corsair's voice. LJN also produced an action figure of the character for their ThunderCats toy line.

Captain Cracker, and his crew of felons, stalk the cosmos in his starship, the Jolly Roger, plundering planets and preying upon other interstellar travelers. Given his occupation, it should come as no surprise that this metallic crook is a marked man, topping many 'Most Wanted' lists throughout the galaxy. When forced to fight, Captain Cracker typically wields a cutlass, dirk, or similar edged weapon. His robotic body has considerable strength and his armored chassis provides a fairly good defense against most conventional attacks. Cracker seldom goes anywhere without his mechanical parrot companion, Polly, perched on his shoulder.

Captain Cracker, Polly, and the sword accessory were all completely sculpted/fabricated from scratch, using common household materials. Captain Cracker has eleven points of articulation, and Polly has four. This figure represents a fusion of the cartoon and toy designs, plus a few tweaks of my own. I was disappointed that the original LJN toy didn't come with Polly (especially seeing as how there was precedent for mini sidekick figures in the line with Snarf and Ma-Mutt), so I rectified that with my version.