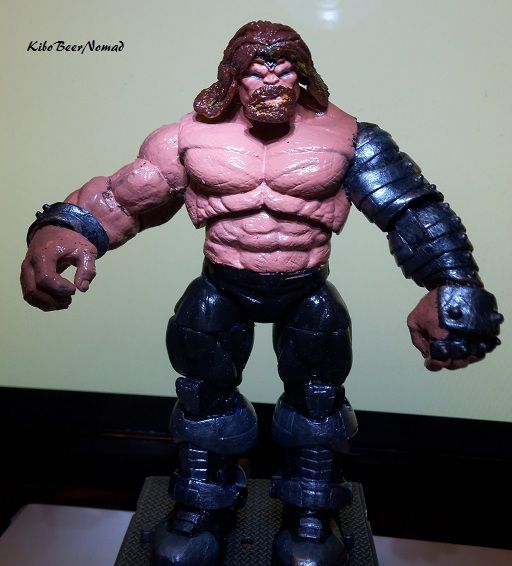 This is the first of a group of customs based off me and my friends. One night we were all having drinks and talking comic and then it turned into "What if we were mutants and such?" After much thought and alcohol, we determined we'd fit in the Age of Apocalypse, and our respective powers based from personalities...so I give you now Kibo the Alcohol Fueled Juggernaut. Super strength, near total invulnerability, super stamina, and unstoppable momentum, activated and enhanced by alcohol, Kibo is essentially a booze powered Juggernaut, one of the survivors of a firebombing of south western Pennsylvania. Along with his friends, Kibo helps humans and mutants alike escape Apocalypse's new world via surviving remnants of the Underground Railroad, supplemented by newly constructed tunnels. I'm including a pic of my face to compare the work. Also of note, I actually finished this custom a while ago, as he was my experimental first in depth sculping on a figure. I'm currently working on armor, I'll post an armored picture later.

I shaved the WW Hulk head, sculpted new hair and facial hair, gave it a repaint. Initially thought of incorporating some yellow/gold instead of silver, but it didn't look right when I tested the scheme out digitally and on a test-figure.

UPDATE: added pics of sculpted helmet, inspired by the classic Juggernaut helm and the Ultimate Juggy look, with a feel of "how would this be replicated by someone with only shelled buildings and scrap metal and only a quick and dirty forge?" and here we are. I tried (possibly too hard?) to show a "made out of random chunks of metal" look, like a real piecemeal kind of armor. Still in trial and error on any body armor, not sure if its needed at this point either...opinions anyone?