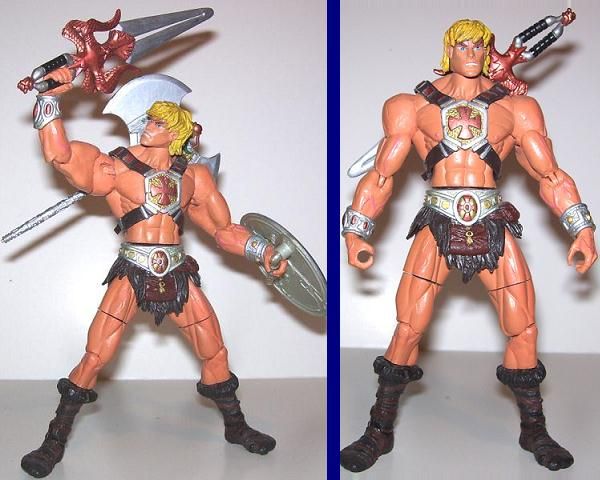 The spell is broken . . . I live again!!

So, aside from some scattered comments and a half-@$$ed entry into a contest about a month ago, I've been largely absent from the Realm for the last year and a half (good Lord, 18 MONTHS? Wow, it didn't feel like THAT long), but I've been working on customs on and off for all that time, and I think it's finally time to get back in the scene. Sadly, no Metroid for now, but I do have PLENTY more TMNT to post, and I've started a new series, which I start unveiling today. Presenting my first Masters of the Universe Hybrid . . . He-Man!

I have a long history with toy collecting. I grew up with Sectaurs and Dino-Riders. I was the first kid in my school to own a Ninja Turtle by almost a YEAR (small rural town, not very trendy, new fads moved in SLOOOOW). As a 4-yr-old, my poor parents couldn't afford much, but I had demonstrated a disinclination to put small accessories in my mouth, and Star Wars figures were cheap, so I owned almost ALL of them (not all at once, I was FOUR after all, so I'd lose them constantly . . . a fact I STILL hate myself for, but I digress). I even owned figures based on the original Dune film, making me one of 10 people on Earth who knows that Dune HAD action figures.

But without a doubt, my first figure obsession was MOTU. Me and the other neighborhood kids would swing around sticks, pretending they were the Sword of Power. We mounted cardboard "lasers" on our big-wheels and rode around the yard, our version of the wastes of Eternia. Every kid has an imaginary friend, and mine was He-Man. But best of all, my best friend Alex (who was NOT poor) owned (and to this day, still does) ABSOLUTELY EVERY FIGURE, VEHICLE, AND PLAYSET in the toyline (even the obscure ones like Rio-Blast and the Meteorbs). For our preschool years, MOTU was LIFE!

Needless say, I was stoked when it was announced in 2001 that MOTU was making a comeback. I grabbed the new figures the moment they hit local shelves. Sadly, while the sculpts were utterly FANTASTIC, the joints left something to be desired, and the selection was pretty poor. Cartoon Network's mismanagement of the show's advertising and schedule, and Mattel's mismanagement of the toy series, doomed the whole endeavor to an early death.

Of course, in 2008 Mattel brought back MOTU with a vengeance . . . and with an APPALLINGLY poor online store and an outrageous price point. MOTU Classics are excellent toys with great articulation, but the price, limited quantities, and hassle of simply purchasing the toys make the concept a non-starter for many fans. And let's face it, the sculpts are great, but they just aren't as amazing as the 2002 series.

MOTU Hybrid is my attempt to unify the best of all three MOTU eras. The ideas (i.e. color schemes and concepts) of the original cartoon, the sculpts of the 2002 toys, and the articulation of modern figures, at a far more reasonable cost.

He-Man here is almost 100% factory original figure. Unlike most other Realmers' attempts to make articulated '02 MOTU figures, I didn't replace the body. I was too impressed with the Four Horsemen's work. Instead, I strategically cut and hollowed out the existing limbs of the 2002 figure and simply spliced in joints from other figures. Only minor sculpting was required to integrate the joints fully. In addition to the existing joints in his shoulders, hips, wrists, and neck, he now has bicep rotation, thigh rotation, shin rotation, knees, elbows, and ankles. Then it was simply a matter of giving the figure a full paint job. He even maintains his spring-loaded attack action feature!

He-Man comes with five accessories:
- 2 versions of the Sword of Power: Not the weird techno-blade from 2002, but rather the version from the original series. People familiar with the development of the '02 cartoon know that Skeletor's dual blades were originally intended to be the actual Sword of Power, the villain having acquired both halves, and He-Man's blade was a replacement crafted by Man-At-Arms and the Sorceress. I went back to this concept and used Skeletor's sword to make a proper Sword of Power. I spliced two golden halves together to make the complete weapon. The half-sword was made by sculpting the second edge of the blade onto yet another golden half-blade and dremeling down the back of the sword to make it flat.
-1 axe, full repaint.
-1 shield, full repaint.
-1 breastplate to make Battle Armor He-Man: THIS was completely sculpted by hand out of LocTite epoxy putty, based on the Four Horsemen staction figure. No, it doesn't change to show battle damage, but it is fully removable, fitting over He-Man's existing harness, allowing full poseability, and even leaving the "holster" on his back exposed so he can still stow his weapons.

Now I've got the He-Man I've always wanted, at a price I can afford! He's fully poseable, large, imposing, and armed to the teeth. He's got that brilliant modern design, but with elements that pay homage to the classic cartoon that I grew up. He turned out better than I ever hoped, and he's got a place of honor on my shelf!

By the power of Grayskull!