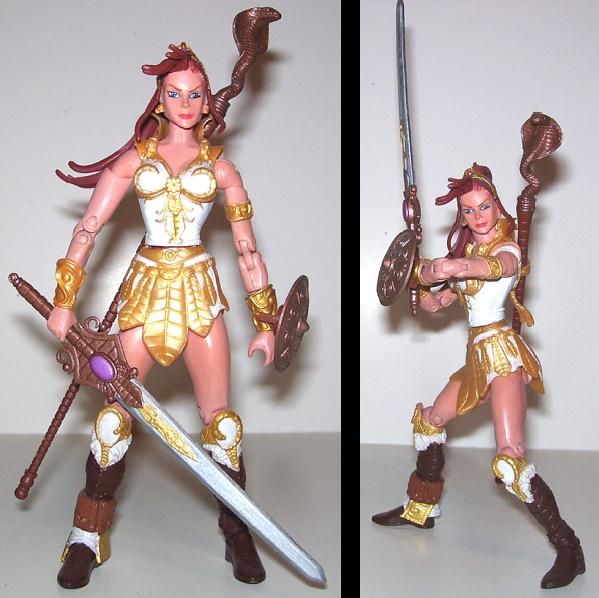 Back for round three! Got a new MOTU Hybrid figure to share with you all. I posted the hero, I posted the villain (if you didn't see them, check them out now!), so this time, it's one of the lovely ladies of the Masters of the Universe . . . uh, universe. They say that behind every great man is a great woman. Well, He-Man has TWO (which may account for why he's so gorram great). The most prominent of these is the warrior maiden, Teela!

To recap, MOTU Hybrid is my attempt to unify the best of all three MOTU eras. The ideas (i.e. color schemes and concepts) of the original cartoon, the sculpts of the 2002 toys, and the articulation of modern figures, at a far more reasonable cost. However, building Teela required a different approach from her predecessors. While I was intent on keeping as much of the original figures as possible with He-Man and Skeletor, I felt no such restrictions with Teela. This is because, unlike the male figures, Teela's arms and legs did not have intricately sculpted, heavily defined musculature. Her limbs were smooth and nondescript, and could thus be replaced with impunity, without having to worry about losing any of the Four Horsemen's brilliant sculpt work. All I needed to keep was the head, torso, and any sculpted clothing/jewelry from the original limbs.

I used arms and legs from a Marvel Legends Psylocke figure, as the base plastic for her limbs is flesh tone. I stripped the blue paint and sanded the limbs smooth to remove any cloth wrinkle details. I removed Teela's limbs and bored out the joints, then sculpted new sockets from LocTite epoxy putty and plugged the new limbs into the original torso. Once the putty dried, solid, poseable arms and legs!

Her bracelets and boots were a bit more difficult. The wrists were simple: just chop off her arms below the elbow and replace with the original forearms, since they already have their own wrist joint. To transfer the armband and boots, however, I had to hollow out the sculpt with my Dremel, turning the sculpted-on jewelry into a literal bracelet that I slipped over her arm and glued in place. Same with the boots, they were turned into "sleeves" that slid over top of her Psylocke lower legs, kneepads and all. I'm particularly proud of the ankle pocket cuff, which is a separate piece, a third layer that wraps around the boot wrapped around the inner leg, which allows the cuff to rotate freely when the foot is turned, and doesn't restrict articulation. The original leg was just one big, solid chunk of plastic.

Paint was just touch-ups, and there was NO sculpting at all. The only putty I used for this figure was to secure the shoulder and hip ball joints. Teela has thigh, wrist, neck, shin, and bicep rotation. She also has double elbows, double knees, and double ankles for forward/backward and left/right rocking motion. All in addition to her spring-loaded waist, providing her sword-slashing action feature! Teela's accessories include her longsword, snake staff, and buckler shield.

Every great man needs a great woman, and with Teela at his side, He-Man is ready to take on the forces of evil, any time, any place. A great companion figure to a great hero!

By the power of Grayskull!