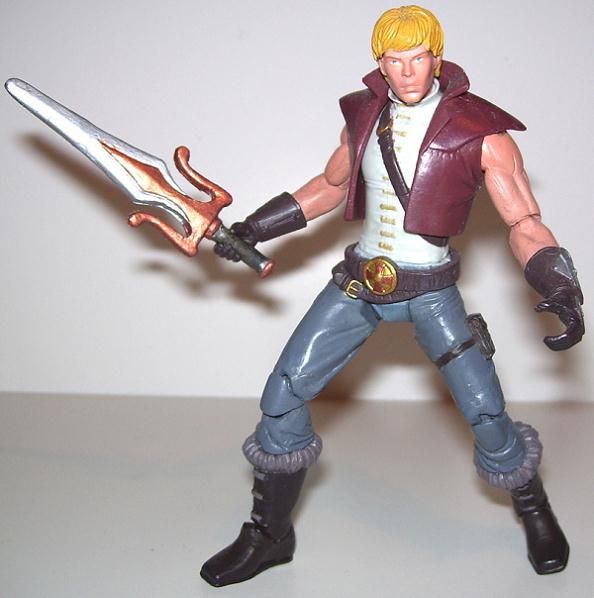 Happy Holidays, Realm! I trust all you folks who celebrate had a lovely Christmas, and everyone else had a great whatever-it-is-you-do-on-December-25th! Now that the chaos has passed for me, I think it's time to post another Masters of the Universe Hybrid figure for your viewing pleasure. Today, we're doing a repeat . . . sorta. Same guy, different costume (and size and musculature and just about everything else), the secret identity of the Hero of Eternia . . . Prince Adam!

MOTU Hybrid is my attempt to unify the best of all three MOTU eras. Like the others, Adam uses a 2002 Adam figure with various Marvel Legends joints spliced in, topped off with a few touches inspired by the original 80s cartoon. There were no real interesting stories or challenges associated with this figure. I did make a few different design choices this time around. For starters, Adam has double-knees. I thought it fit better with the "loose fitting pants" design of the figure. Further, because he's smaller - and therefore has shorter limbs, ergo less space to hollow out and splice in a joint - and because I didn't want to hinder the Four Horsemen's sculpt work, Adam does not include any thigh rotation. Instead of bicep rotation at the shoulder, he has a Hasbro rotate/hinge combo joint at the elbow, achieving roughly the same effect. And while I generally prefer the color schemes of the original show, I think we can all agree that pink pants would have looked ridiculous, and so Adams legs were better left gray.

As with many heroes, the prince from the Filmation cartoon suffered the Superman Secret Syndrome, i.e. his civilian identity looked almost identical to his heroic identity, just in a change of clothes. Adam was supposedly a lazy, daydreaming prince who just so happened to be seven feet tall, weighed 250 lbs, had muscles that made him look like he could bench-press Castle Grayskull, with the same Prince Valiant haircut as He-Man, and a pet green and yellow tiger (how many of THOSE are running around, huh?). Not to mention, Prince Adam just WALKS AROUND with the Sword of Power strapped to his back. "Oh, this? What? You can get these anywhere!" And yet no one figured it out!

The 2002 remake addressed this by making Adam a scrawny, teenage weakling, and his pet was about the size of a large housecat. A VAST inprovement, but he still carried around a sword that was nearly identical to He-Man's weapon. Sure, the sword changed slightly, but I felt a bit more drastic transformation was in order. To that end, I gave Prince Adam a weapon COMPLETELY different from that of his counterpart . . . specifically a Sword of Power from an original 1980s He-Man figure. The visual cues are still the same (color, basic outline), but NO ONE is going to mistake Adam's weapon for the real thing. It's blunt, plain, and half as long. A perfect disguise for a magical, transforming weapon!

Of course, Cringer is tiger-sized, 'cuz I don't have a spare tiny little kitty figure hanging around. Ah well.

By the power of Grayskull!