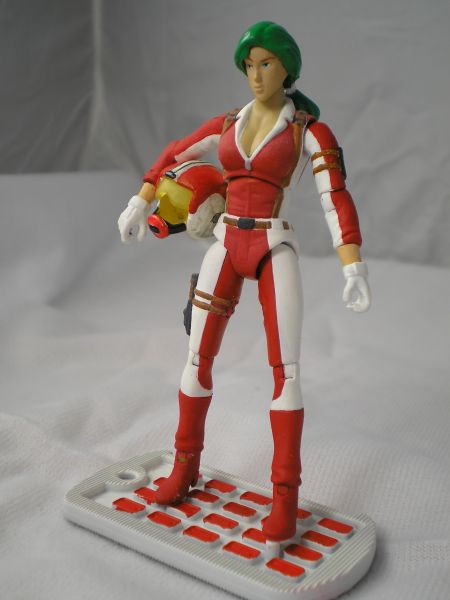 In my "Golden Age" the mornings were filled with animation of all types, with Saturdays being a half day extravaganza packed with competing cartoons on every channel from 3-13. Yet it was a time when children were treated as mindless drones given insignificant 20 minute stories to snack upon, until Robotech came along, a 3 part 28 hour continuous storytelling feast. Finally a show that recognized my imagination as the limitless journey it was. Within this saga of multidimensional characters, was one who stood out & demanded recognition. Conceived from an alien race bred for combat, genetically manipulated for 1000's of generations to create the ultimate soldier, was a warrior considered the greatest amongst them all. Before Aeon Flux, before Laura Croft, and yes before the allmighty Sailor Moon, you had the original female bad@%% . . . Miriya Parina. She existed to destroy, her only pleasure coming from your pain.

Okay the Robotech toyline was an odd sorts. Some re-styled japanese products in english packaging. Some products completely exclusive to the American market. And of course the highly collected original Japanese imports. Aside from a few standouts like the Officer Glaug, most of Matchbox's American toys were mediocre at best. Still though the Robotech line (and its original corresponding Japanese series) sparked some of the best toys of all time. Sadly the Miriya action figure was not one of these. In fact their whole action figure line was pretty much not one of these. While the transforming vehicles were groundbreaking and the stylistic alien designs still compete with the sci-fi creations of today, the action figures were pretty horrible & random. The colors were so-so, the features were undefined, & differentiating between male & female figures could be a challenge to those unfamiliar with the show.

Add to this that just about all the figures were made available at once so when you looked on the card back you would see all the characters from the 3 different series just mish-mashed together with no rhyme or reason, distinguished only as good guys/ bad guys. Many characters were never produced, while some were produced in multiple versions. Miriya (Milia in Japan) was one of these. For some reason (maybe due to her sheer awesomeness) Miriya was made in 4 versions. None of them gave any hint at how cool she really was. G.I. Joe, the REAL American Hero, may have blew it at telling a REAL story, but they killed it when it came to making a REAL action figure. Matchbox could have learned a thing or two from them.

Miriya:
Head & Legs: 25th Aniv. Scartlett
Torso: Aniv. DVD Multi-pack Lady Jaye
Arms: R.O.C. Agent Helix
Helmet: Somebody from Star Wars

In the shows beginning Miriya is introduced for one reason. To kick butt. She doesn't need bells & whistles so I didn't give her any aside from her trusty knife & pilot helmet. This is my true representation of her in her Micronian RDF flight suit. Not so much a custom as it is more of a complete modification, as all the needed parts are available to make her as the Space Gods intended. I modified the torso to accept the arms, drilled out the head to fit better, and sanded several areas to sexy up the lines & gain clearance at the joints. Add paint and way more time than I initially figured to get this. A small tribute to the original anime alien hotty, how if time & expenses permitted she might be sold in the aisles of Toys R' Us today.