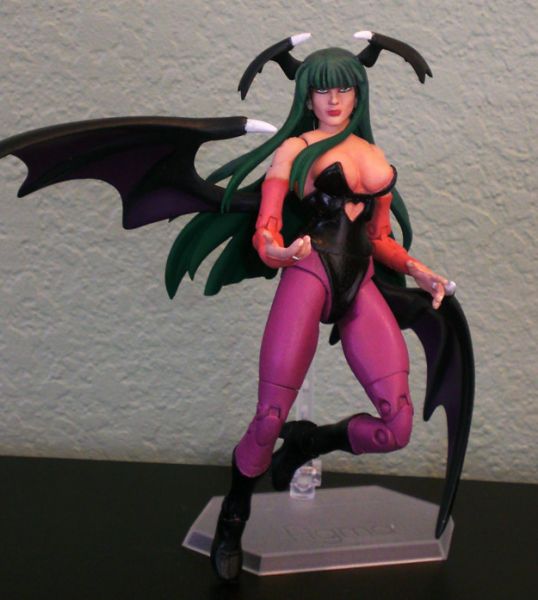 To me, this character is about as indispensable as Captain America.
Sure, I wasn't a huge childhood fan or anything, but recognize how central and huge a part they take in their worlds.
I need to have a Cap on my shelf because he's a big-deal classic character that I really like, and Morrigan is the same.

I guess ever since I really gave up on SOTA ever making the Morrigan whose prototype they showed SDCC 05 (iirc), I've been thinking about this one. Here's what I came up with:

Body (modified w/ rebuilt butt): DCUC PowerGirl
Arms: TBML Psylocke
Legs, knees down: TBML SpiderWoman (shins shortened)
Head: DCUC Raven
Hands: TBML Psylocke, DCDirect Dr. Fate I with wrists from TBML SpiderWoman, left Snap-On Armor IM movie I, right DCDirect KC Jade
Hair: Figma 036, Tsuruya-san culture festival maid
Wings, ruffles, bangs(heavily modified): Vampire Savior action hero real series 02 Morrigan

Her wings are articulated. The hair is articulated, which allows her wings to move up, and the strands in front are soft and movable. There's a Revoltech joint in the neck, so it can look any which way (which I find really important). The 3 sets of alternate hands were a pain in the butt to get right. I used the superglue trick on her joints to make them able to withstand a little rub and it's a huge help, just took a while. The ruffles are interchangeable parts are swivel at the holes in the back they plug into.

Pretty happy with her. I know she usually has bats on her leggings but I kinda don't like that part. I love her design but those bats are a little, silly. I've been working on her for months. It was a huge amount of work but I think she came out well. Let me know what you think!