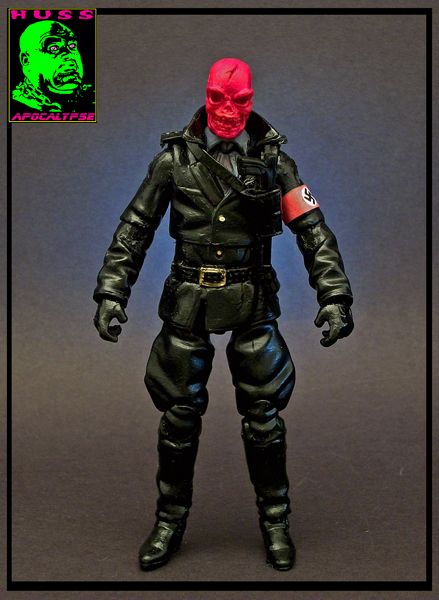 Have you ever thought that you came up with an awesome idea for a custom, and then looked online to discover that 800,000 other people had already thought of it and executed it to perfection many times? Yeah, that's how I felt about this figure. There's no doubt that the POC Destro toy practically demands to be made into a Red Skull, so I guess it comes as no surprise. I had actually abandoned this project a while back, after scouting the many amazing versions of this simple recipe out there, concluding that there was nowhere left to go that hadn't already been done. But The Red Skull kept calling to me from beyond the grave, and so finally I relented and made it anyway.
It's mostly just a simple re-paint. And yet simplicity was the key to achieve the desired effect of a sleek, imposing criminal mastermind! Paint the Poc Destro black, slap on some gold buttons and a belt buckle, use a matte sealant for the clothes and a gloss sealant for the boots and gloves, and voila! You're half-way there. The head is from a Chap Mei Skeletor rip-off figure, it was lopped off and dremeled out to work with the Destro body. It was painted with a transparent red and then matte sealed, so that the paint apps on the original figure show through, which is cool because the apps on the skull are quite good for a cheap dollar store figure. Hmm. Go figure. WAR CHAP MEI!! I love those guys.
I was feeling a little sketchy when I was printing out the swastika arm band because I don't want to be misunderstood as promoting hatred or glorifying the nazi aesthetic or anything like that by using it as a part of his costume. Personally, I think it is integral to the character that he is indeed a nazi. Obviously, no toy company is ever going to produce a Red Skull figure or any other toy that displays a swastika, because it would be a public relations nightmare. And that's where a customizer can step in and make things happen that toy companies either can't or won't do. If you feel I am being insensitive by utilizing that imagery, then I apologize as that is not my intent. I judge people as individuals based on their actions, and it's been my experience that there are both %#@holes and cool people from all different walks of life. This custom is meant to be an accurate representation of the character, and that's all. Hopefully this disclaimer will keep me from getting roasted in the comments section lol!
Anyway, there are a lot of different versions of this recipe out there, and this is my take on The Red Skull! Thanks for checking it out!