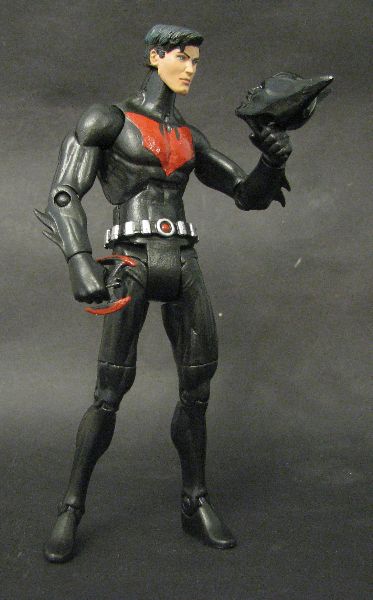 I'll admit it, Batman Beyond is my favorite Batman cartoon and Terry McGinnis is one of my favorite Bat Family characters. I don't know why it took me so long to make a custom of him, given that I had all the parts for some time now.

First I wanted to make him exactly like others have done before - Deadman lower torso and upper legs with Sinestro's upper torso, arms and lower legs, but I'm one Deadman short, so I had to improvise. He's all Sinestro - except forearms and head, these obviously came from the DCUC4 Bats. Forearms had to be cut a little near the joint, because they were too bulky, belt had been cut (inside), to fit on the new body, but other than that it's just paint, no additional sculpting.

The symbol was made the usual way: first drawn by hand, then cut from a good quality sticker. This time I've made four different designs before I've found one I was happy with. And it's almost identical with the one from the cartoon. Also, the batarang is now faithful, too.

Painted with Model Masters flat black, insignia red. Sealed with flat (MM) and gloss (Vallejo, used on belt, symbol, batarang and mask).

And that's it, hope you like him. If anyone has a pair of Deadman hands (or other with spread fingers) and a masked BB head, please let me know. If I'll get them, I'll make an update with an accessory pack I have in mind.