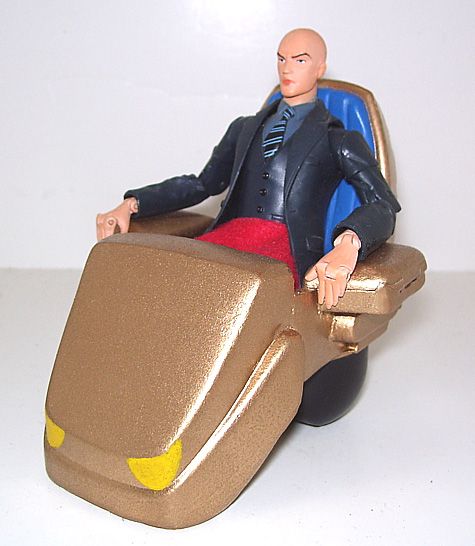 I've been dabbling with custom figures with over a decade, and while I only developed the confidence to share my work in the last two years, I've been refining my work for a very long time. My first posts were Metroid figures, but my first love was Marvel Legends. I have a whole box of old Marvel customs that I need to dig out, repair, and post on the Realm. But for now, I'm showing you all my latest work, Professor Xavier's Hoverchair!

I always intended to make this toy someday, but the Vehicular Toyslaughter Custom Contest was the perfect justification to get a move on and get it done. Thanks again, Figure Realm! I had all the parts I needed in the old ToyBiz Prof.X toy from the '90s, it was just a matter of getting it done.

Not much to it, really. Just disassembled the old Xavier, ditched the torso, adjusted the various pieces to make the chair large enough to accommodate a 6 inch figure, and sculpted the rest. I'd like to give special thanks to my brother for being an OCD pr!(k . . . every time I brought the chair to him, he said "Nope, sand it some more." I was coughing epoxy dust for a week, and I wanted to strangle him, but I can't deny the results: you literally CANNOT see where the plastic ends and the LocTite begins, it's seamless and perfectly flat! Complete paint job, and now I've got a full ML scale Shi'ar hover chair.

Excelsior!