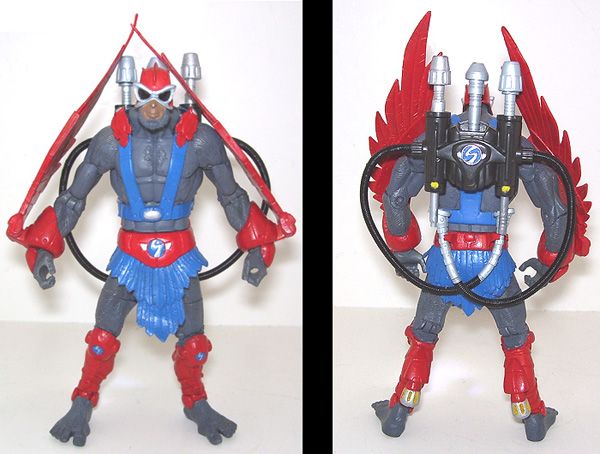 Whew! Has it really been a MONTH since I posted one of these? Bet my fans thought I abandoned them! Not to worry, I've still been customizing, and I want to thank everyone who voted for my entries in the Vehicular Toyslaughter Custom Contest. If you didn't see them, check out the Turtle Van, Redbird, and Professor Xavier's Hoverchair. I'll be entering two currently running contests as well, so keep an eye out! Meanwhile, I'm back with another in my (semi) popular line of MOTU Hybrids. Today's piece is apparently a fan favorite (shout out to kngfu! Good guy), and while I've always seen him as a third-stringer, after working on him, I can say I appreciate the character and design a lot more than I once did. The king of the skies, the lord of Avion, say hello to Stratos!

MOTU Hybrid is my attempt to unify the best of all three MOTU eras. The ideas (i.e. color schemes and concepts) of the original cartoon, the sculpts of the 2002 toys, and the articulation of modern figures, at a far more reasonable cost. But sometimes, cost just has to take a backseat to awesome. The original 2002 Stratos figure by Mattel is fairly easy and cheap to come by, but it has a major design problem. To accommodate his wing-flapping action feature, Mattel removed his ball shoulders, making them simple vertical hinge joints. To compensate, they gave the figure hinge elbows, but it's a small compromise, and really only serves to emphasize both what this figure lacks, and what all the OTHER figures should have in the first place. Later, Mattel released a new version, Sky Strike Stratos, virtually identical to the first, but with no flapping action. The ball joints are back, but contrary to all logic, the elbows are now removed! Additionally, the second toy has new wings, with metal blades molded permanently on the ends. Cool, but kind of annoying that they're not optional. Nevertheless, this figure proved MUCH more popular, and with greater demand comes greater scarcity and price.

A simple rule of joint swapping: ball joints are harder to make than hinges and cuts. I pretty much HAD to start with a Sky Strike figure. However, the pre-engineered elbows and plain wings of the first figure make it too good to pass up. The solution? Buy both figures! It's expensive, but the results are worth it.

I've explained the process before. Cut the hinges or peg-&-sockets from a fodder figure, hollow the limbs of your base figure, glue in, then fill in gaps with LocTite epoxy putty as needed. In addition to the ball shoulders and hips and rotating wrists and waist and neck of the original figure (plus the hinge elbows of the first Stratos), I added rotating biceps and thighs, hinge knees, and a hinge-rotate double joint at the ankles.

I also made a minor design modification to the figure as a whole. Stratos apparently flies using a combination of his wings and a large jetpack. Obviously, he steers with his wings, but he activates the jetpack with a pair of control sticks, attached by hoses to the main device. He doesn't have anywhere to stow the controls! The figure had NO holsters or belt clips or sockets of ANY KIND. He just has to let them drag on the ground, or hold the damn things at all times! I corrected this little oversight by cutting up a Bionicle joint into a pair or crescent clips, which I glued onto his belt in back. Now he has a convenient place to store his flight controls while he's . . . well, doing anything but flying, basically.

Stratos has a whopping SIX accessories!
-2 spare bladed wings, swappable with the basic wings.
-2 boot missiles, non-firing, these are just props.
-1 firing missile, the figure maintains the missile launcher action in his jetpack.
-1 Staff of Avion: From the original Filmation cartoon, the magic staff of the ruler of the nation of Avion! I had to update the design (the original was a plain golden fork with a horned skull on it . . . what the hell does that have to do with a race of flying apes?), so I sculpted the head completely by hand. It maintains the same shape of the original (go ahead, Google Image Search it), but incorporates themes of the Avion people (wings, the letter A for Avion, and the S crest of the ruling family). I painted the head in two shades of gold, silver and blue for the crest, and painted the staff in two shades of brown with a subtle wood-grain effect. You can't see it in the photos, but it looks AMAZING!

Like I said before, I was always skeptical of this character, but after working with him, I've fallen in love with the Four Horsemen redesign! He's thin and lanky, as a flying character should be (low mass to reduce weight), he's practically designed, he's heavily armed, and he strikes that perfect MOTU balance between fantasy and sci-fi technology. He's everything I expect from the series, and he's a great figure!

By the power of Grayskull!