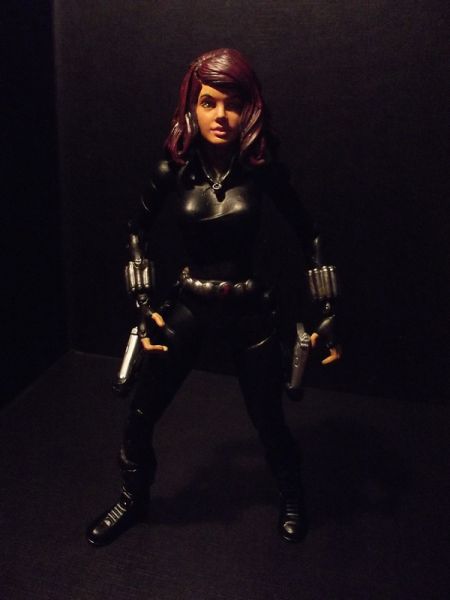 hiya

Had the ML black widow in a job lot, poorly shaped, and I just hated her face and body proportions. Since the hasbro 2 pack edition is hard to find at a reasonable price, I decided to make my own. found a very cheap Lara Croft PVC like figure, and thought the face was pretty, and had some cool accessories and boots. Most of my ML collection is movie- like renditions, and since there is no Scarlett Johansson headsculpts available at this size..well, angelina was a good replacement.
So, I cut off Lara´s head, boots and gun holsters. Shaved off her head, reworked some movie Rogue hair leftovers from previous customs, and hair was done. Then I dremmeled and attached the boots, glued the gun holsters, a fresh paint job and that´s it. I like her new boots and how they gave a different body proportion and made her an inch or so shorter, so she won´t be taller than her avengers teammates.

I added a group shot with 2 of her SHIELD companions. BTW, Hawkeye was reworked,too. He got new legs, but that´s another story and post, if I ever change him more dramatically.

Cheers!