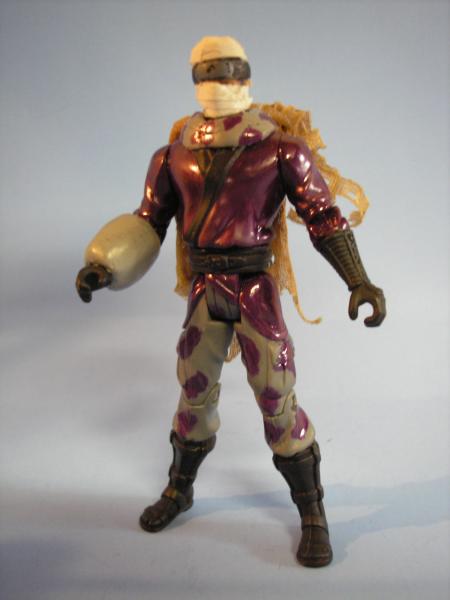 | | |
| --- | --- |
| Custom #: | 3685 |
| Name: | Dosu Kinuta |
| Custom Type: | Action Figure |
| Toy Series: | Naruto |
| Creator: | Mr-X |
| Date Added: | August 22, 2007 |
| Base Figure: | Batman Begins Bruce Wayne |
| Height: | 5.75 inches |
One of the three Sound Genin who partcipated at the Chuunin exams, Dosu was easily the most cunning and most clever of all the candidates. His attacks came from his sound amp implant on his right arm that allowed him to produce vibrations. Using his chakra, he could amplify and direct them at an opponent.

Knowing full well his team cared less about passing, he set his sights on his true objective: killing Sasuke Uchiha. After several days of battle, his team found the battered Team 7(Sasuke and Naruto unconscious and Sakura nearly asleep) and attacked. held of by Sakura for a few seconds, they nearly killed her, until Rock Lee and Team 8 stepped in to help and held off the Sound team. Still, this wasn't enough and they were slowly beaten back and almost driven off by the sound. The end of the fight came when Sasuke, under his new Curse Mark, woke up and violently beat Dosu's teammate Zake, breaking both of his arms. Knowing defeat, Dosu made a bargain and fled with his two teammates.

Knowing he had been duped to test Sasuke's strength, Dosu swore vendetta on Sasuke and fought to the final rounds of the exam and emerged the only Sound still in the game. His final mistake was when he set out to attack gaara, who had been paired to fight Sasuke, in attempt to take him out. Gaara, half transformed into his demon form, easily killed Dosu(quickest futile fight EVER)

I always liked Dosu, he was an interesting character. Not a stupid goon, he realized he had been played and swore he would prove himself. Unfortunetly he attacked gaara and got ripped into pieces in the worst death scene ever. here we have a guy who knew all about planning, was clever and strong and he gets swatted like a fly without making a move, such a classless way to go out, especially after all the skills he had shown.

Anyhow, this was a pretty easy custom, the only sculpting was on his neck scarf and his sound amp.

For the head bandages, I took a leaf out of LWes's book and used tape, it looks pretty spiffy and feels nice and realistic!!! Better yet he still retains full head movement.

The whole body was given a repaint with purple, which IMO is darker then it should be but still looks pretty cool and given a black trim on the robes. pants were painted grey and then given the purple splotches, same with the scarf.

The gauntly was first painted with gunmetal then drybrushed with grey, turned out pretty cool.

The puffy thing on his back is a camo suit from a GI Joe figure and was bunched up and then glued on, I think it does the job pretty well.

I'm satisfied with this guy, I though the back poof and the bandages would give me more trouble but it didn't turn out that way.

Hope you enjoy!!!