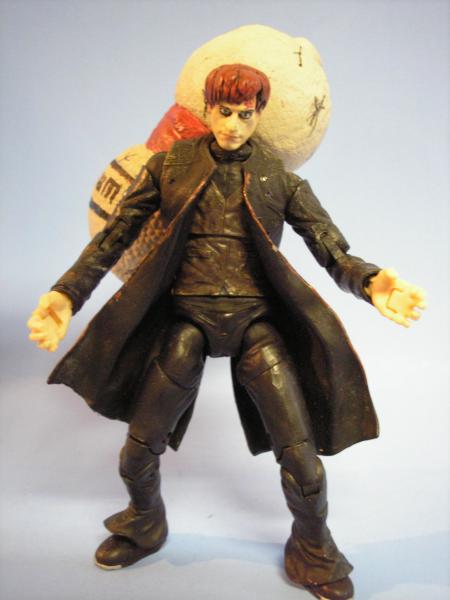 | | |
| --- | --- |
| Custom #: | 3686 |
| Name: | Gaara-Timeskip |
| Custom Type: | Action Figure |
| Toy Series: | Naruto |
| Creator: | Mr-X |
| Date Added: | August 22, 2007 |
| Base Figure: | Xmen Movie Nightcrawler, GR Balckheart arms, Mr F head |
| Height: | 6.00 inches |
No backstory here, it would be pages long, just go to Wikipedia for him.

Anyhow, this guy was a request by Ratboy, the guy whos been helping me with parts and feedback when I need it.

He probably has the most time put into him out of all my customs, because of both my dawdling and the problems I hit with him.

Ahyhow, heres a rundown of him:

Nightcrawler body, everything his except the feet, arms and head. I kep the original chest paintjob but repainted the legs. The Blackheart arms were spared a new paintjob because they fit with the coat already. The only mod I did to the coat was removing the upper collar because it inhibited head movement, now it doesn't.

My first problem was the feet. See, Nightcrlawers feet were the blue claws but the peg for them was on the feet, not the actual legs which meant I couldnt just use some other ML feet or boots. For a while I was sure if I wanted to mod existed feet to have a joint, sculpt them on, glue them, etc. Finally I was hit by an idea. Using my dremell, I took the original Nightcrawler feet, shapped like a Y and took off the front toes, whcih were on a hinge, leaving me with a kind of blue oval with a rod and peg on it. Remembering my trade buddy Hawkeye had sent me a Movie Mystique with the rubber Wolvie suit, I had an idea. I took the rubber feet from the Wolvie suit and put the remains of the orginal feet, with peg, into the bubber shows and VIOLA: Instant decent looking shoes with a pegs. As the shoes were rubber, they accomodated the remains and fit sunggly to them and so I attached them. Now they fit nicely, look good and still have all the movement.

The next problem was with the head. The original head is on a body long peg(stupid TB) and is all whcked out from the normal ML's and such. In the process of moving the original head and neckpiece(like Movie Mr. F) the darn rod broke!!!

To make a long story short I had to fill in allot of empty space to get a screw in there to hold the head, luckily it stil has all the orginal movement and isnt much heavier and I didn't use as many colorful words as I could have(at least three times the sculpty and Aves stuff cracked and I had to redo it)

Finally I put on the new head and redid that, whole new hair style. Painted black then drybrushed red. I also put black rings around the eyes and gave him new eyes, green eyes and now the eyes really make him look crazy. I also did the Kanji symbol on his forhead which didn't turn out too bad.

The next step was the Gourd for his back. In a nutshell, its two styrofoam balls, one sanded slighly smaller then the other. They are held together by a nail, a hell of a lot of glue and a good amount of sculpty. It was then painted to look like sand, the cloth band red and I did the symbols with a sharpie then with black paint.

My biggest change and addition was the magnets. See on the back of our friend Gaara, I put in a screw, then attached a magnet to it and painted it black to match the coat. There is another screw and magnet in the gourd, painted red and the two can attach so he can carry it on his back. Only a slight add on but it makes a world of difference.

A fun custom, even though it gave me a pain sometimes.

Hope you all enjoy as much as I do!!!