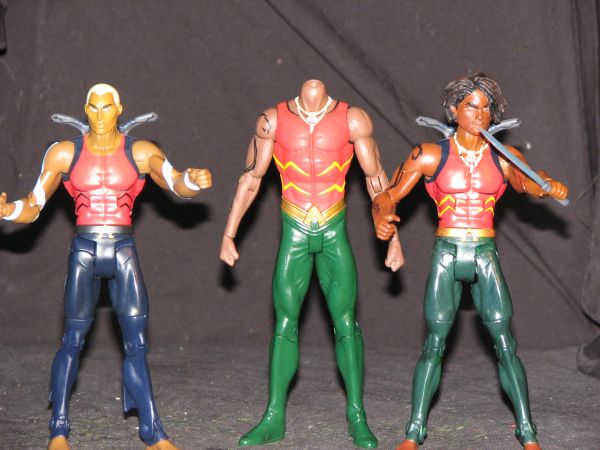 | | |
| --- | --- |
| Custom #: | 36946 |
| Name: | Aqualad 2 |
| Custom Type: | Action Figure |
| Toy Series: | DC Universe |
| Creator: | Bob-A-Ferret |
| Date Added: | February 19, 2012 |
| Base Figure: | Aqualad Young Justice |
| Height: | 6.00 inches |
| Completion Time: | 4.00 hours |
No way could my collection not have a comic accurate DCUC style Aqualad. Just couldn't have that. And as I was slightly disappointed in the YJ version it was the obvious choice to make the DCUC version from. So I head swapped him repainted him to match made green stuff jewelry and there you have a comic accurate version of Aqualad. My first pic has him with the original figs he was made from though one is headless now LOL. the rest have him with the YJ version for comparison

for those who don't know this character here is a quick synopsis.

Jackson Hyde is an average student with a girlfriend in Silver City, New Mexico. Since he was a young boy, he's been taught by his parents to stay away from water, because his true parents might be able to locate him and certain changes happen to Jackson when he gets in the water.

Jackson has kept this secret hidden for years, from his girlfriend about being afraid of drowning and unable to swim, and being in the dark about the mysterious tattoos he's had since birth. But soon something force him to go out into the open and dive into the water. Later Aquaman is contacted by the Entity, which tells him to find Jackson before someone else does, which might be Siren and her Death Squad.
Jackson's glowing eyes

Jackson goes outside his house, while raining, where he displays for the first time his abilities. He began controlling the water from the rain and his tattoos and eyes begin to glow. At this moment he as revealed to have gills and webbed hands. Its also revealed that Black Manta is actually his real father, and that Mera also displays knowledge of Jackson.

Jackson's adoptive father after witnessing him in the rain, takes him to a cottage by the sea. He tells him the truth about his real parents. That Mera had given Jackson to him, asking that he keep him away from his parents, and he was given an Atlantean chest to be opened when the truth is discovered. Before Jackson can open the chets, Black Manta attacks, almost killing Jackson's adoptive father before Aquaman arrives on the scene.

Jackson Hyde, originally named Kaldur'ahm, was born in Xebel, the underwater penal colony of Atlantis located in the Bermuda Triangle. While pregnant with Jackson, his mother was attacked and apprehended by Xebelian outlaws in a lifeboat within the Bermuda Triangle. After taking the mother to Xebel, the Xebelian's performed experiments on Jackson and his mother in an attempt to discover a biological escape mechanism from their underwater prison. His mother was killed during the experimentation, while Jackson lived. The experiments that were performed on

Jackson gave him powers to manipulate water constructs, breathe underwater, and instantaneously grow webbed hands and feet.

Mera, fearing that the Xebelian's or the Atlanteans would kill Jackson due to his suspected power to open the prison within the Bermuda Triangle, kidnapped him when she left Xebel. Mera brought the boy to a surface couple, who raised him as their own in New Mexico.