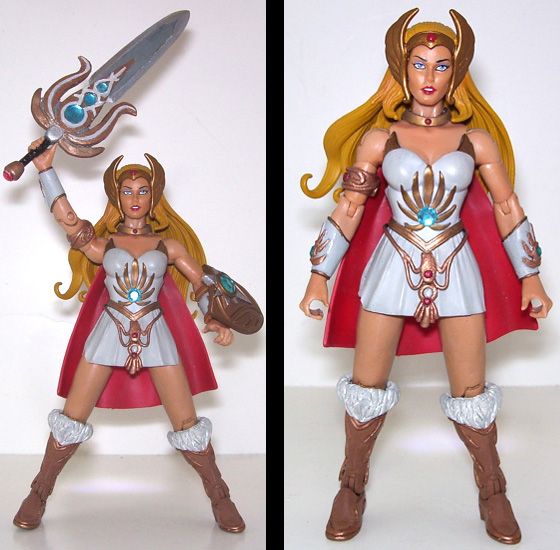 So . . . She-Ra: Princess of Power. I'ma be honest, not my thing as a kid. And it's not because it was a "girl's line," because as any MOTU fanboy knows, the sister series was superior to the original by far (I particularly liked the more imaginative villain designs . . . Hordak, Modulok, Mantenna, even Grizzlor). Rather, when the show aired in its first run, I simply didn't have TV, so I never had the opportunity to watch, and by the time I did have access to Princess Adora and company during their syndicated run, I had already moved on to bigger things . . . namely the TMNT, which would prove to be the largest influence on my childhood.

I didn't originally plan to branch off into He-Man's spinoff series when I began my MOTU Hybrid series. Then again, I wasn't planning on making a SERIES, period. It was supposed to be just He-Man and Skeletor. Everything else just sorta . . . happened. However, these little brainworms often take on a life of their own (yeah, that sounded less disgusting before I wrote it), especially when a fan outright requests a continuation of my work. Cosmic Fantasy Customs was fairly adamant that I give She-Ra a whirl, and before I knew it, I had picked up a She-Ra/Supergirl 2 pack on the cheap. I have to say, I'm glad CFC made the request, because it has allowed me to expand my work to new areas (as you'll see with the next custom, but that's for another day). In any case, CFC, this one's for you!

MOTU Hybrid is my attempt to unify the best of all three MOTU eras. The ideas (i.e. color schemes and concepts) of the original cartoon, the sculpts of the 2002 toys, and the articulation of modern figures, at a far more reasonable cost. For the first time in this series, most of the work is done for me. I feel a lot of negativity towards Mattel and the MOTUC line, but the one thing I will readily admit, they are fine toys. All the base sculpting and articulation I needed were already present on the original figure, it was simply a matter of modifying her cosmetically to suit my needs.

For some reason, Mattel chose to package their first, lesser-quality She-Ra figure in the MOTU vs DC 2-pk, rather than their later, superior "Bubble Power" design. Limited waist articulation, stiff one-piece skirt, less sculpt details, duller color, I'm really rather at a loss as to why they'd make such a poor decision, as if they WANTED to kill the 2-pk line (which, of course, is now canceled, so if that WAS their goal, bravo Mattel). In any case, I set about correcting their initial oversights to bring her in line with the BP figure. I cut the skirt along the sides to accommodate a better range of motion in the hips, I sculpted armor plates on the boots, and I added flowers to her bracers, similar to the one on her torso. The MOTUC figures are in 7 inch scale, slightly larger than my Hybrids, so I had to make She-Ra a bit shorter. Not a problem, really, as Mattel tends to make their female figures with extra-long legs anyway, they needed to be shortened regardless to give her more realistic proportions.

Then came my 2002 modifications. Despite never appearing in the series, She-Ra DID receive a 2002 makeover in the form of a SDCC exclusive figure. However, this redesign was merely a mod of the existing Teela figure. I chose to merge only a few of those elements with the classic design. I added fur to the boots, plastic gems to the torso and bracers, extra detail work to the skirt, and a single bracelet to the right arm. I painted the bracers white with bronze flowers to match the dress, and I painted the boots a leather brown with bronze armor plates and white fur.

As with her brother, She-Ra has three main weapons:
- 1 shield, only added silver highlights.
- 1 axe/comb, the original standalone She-Ra figure came with this weapon, but the 2-pack did not, so I had to hand-sculpt a replacement . . . came out well, I think.
- 1 Sword of Protection, complete redesign. One need only read my Prince Adam thesis to explain my feelings on this - you can't have the hero and the secret identity running around with the same sword. Adam's sword "upgrades" when he turns into He-Man, Adora's should as well. To that end, I put aside the Protection Sword the figure originally came with, and built a new one. Using the 2002 He-Man Power Sword as a base, I carved off all the "techno" details and sculpted a new hilt out of LocTite epoxy putty. Much like Adam/He-Man's weapon, I wanted the new sword to slightly resemble the original, but to appear distinct; I also wanted it to match She-Ra's existing flower costume motif. Fine line work and three blue gems of increasing size on each side of the hilt, plus an additional red gem on the pommel, a full repaint, and She-Ra had a worthy weapon with which to call upon the spirit of King Grayskull.

And speaking of which . . .

For the honor of Grayskull!