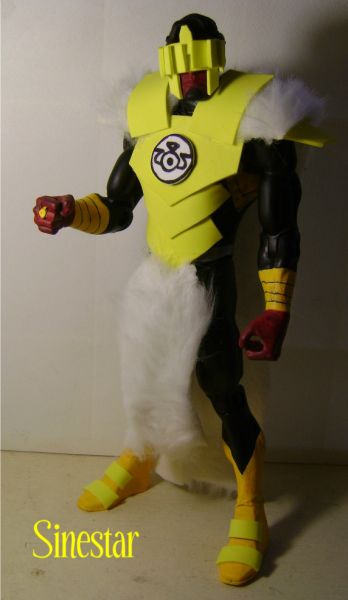 One of the Giants of the planet Ethros, Baron Solaar is the elder son of King Bagra. At age 3000 Bagra united the disperate tribes of Ethros, solidifying his position as king by marrrying the Princess Sarii. When by age 7000 Sarii had failed to produce an heir, Bagra sired Solaar with a servant of the lower red giant class. Despite the redish (and thus inferior) hue of his skin Solaar was groomed to lead Ethros, until miraculusly at at 8000 years old Sarii gave birth to a pure blooded blue giant son, Macross.
Though Solaar was born first, Bagra loved Macross best, and upon his death Macross was chosen to succeed Bagra as King of Ethros. Adding insult ot injury, Macross was later chosen to join the vaunted Green Lantern Corps. During one of Macross' abscenses offworld due to his lantern duties, Solaar attempted to stage a coup of Macross' throne. Upon his return to Ethros, Macross exiled Solaar to the northern mountains of Ethros. Determined and set upon vengeance, from his mountian exile, Solaar began a thousand year campaign of terror upon his brother's kingdom. This attracted the attention of Thaal Sinestro, and wehn he offered Solaar a way out of exile, and the means to finally destroy his Green Lantern brother. Solaar then took the name "Sinestar" to honor his savior, and now serves Sinestro as one of his trusted leiutenants leading the Sinestros against the hated Green Lanterns.

Ethros Fun Fact: The giants of Ethros are divided socially along racial lines, the upper blue skinned noble calss, and the lower red skinned peasant class. There are rumors of a darkskinned wild class that live in the mountians, but none have ever been confirmed to exist.

The figure was made from a 12" Hal Jordan, repainted with foamy for the armor, and fake fur trim for the cape and loin cloth.