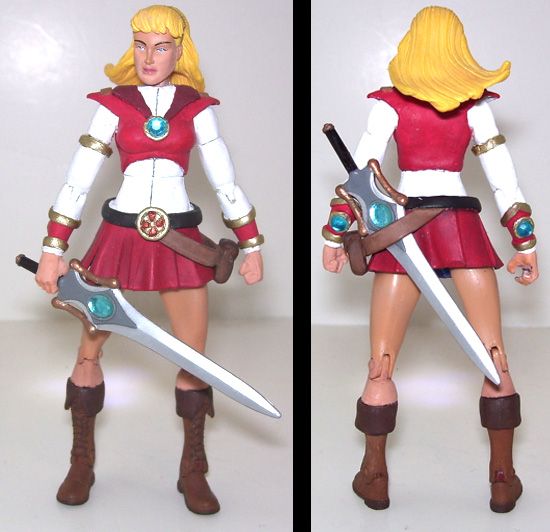 So, here we come at last to my very first wholly original MOTU Hybrid creation. Oh sure, Battle Cat's armor was largely my own design, but it was heavily based on the original '80s toy, and I used the 2002 figure as a base, so there wasn't THAT much speculation. However, this figure marks the first (but certainly not the last) time I've been forced to create a 2002 redesign of a character from the '80s that never got a proper update in the latter series, and thus never had a figure made, requiring that I build the toy using a non-MOTU base. And I could think of nowhere better to get that base than from another toyline sculpted by the enormously talented Four Horsemen, namely the incredibly successful DC Universe Classics. The MOTUC She-Ra I purchased to make my Hybrid She-Ra came packaged with a DCUC Supergirl, and I thought she'd be a great foundation for her diminutive alter-ego, Prince Adam's twin sister, long ago captured by the evil Hordak and spirited away to the realm of Etheria, the lovely Princess Adora!

MOTU Hybrid is my attempt to unify the best of all three MOTU eras. The ideas (i.e. color schemes and concepts) of the original cartoon, the sculpts of the 2002 toys, and the articulation of modern figures, at a far more reasonable cost. And what better cost than free, right? I bought the set for She-Ra . . . Supergirl just came along for the ride, really. It wasn't until I was nearly finished with the Princess of Power that I realized, "Hey . . . wouldn't Miss Danvers here make a PERFECT '02 Adora?"

As with her package-partner, Supergirl needed no joint modifications. All her necessary articulation was included in the original Mattel design. As with all Mattel females, her proportions were a LITTLE bit off. I slightly lengthened her arms and shortened her legs so her limbs looked a bit more natural. Then I went to work in Windows Paint designing a proper '02 style update for the perennially passe princess. I was looking for something that still recalled all the major themes of Adora's original costume (red and white, pointy shoulders, leather shoulder pads, bare legs, boot cuffs), discarded the really silly ideas (Spike heels for an adventurer? Big, pointy bracers? Granny-panties on the outside?), and was reminiscent of both my Hybrid She-Ra's costume (skirt, bracers, arm band, gems) and '02 Prince Adam's outfit (sensible, stylish clothes that a teenager might ACTUALLY wear, with the insignia of the royal family of Eternia). The concept sketch is below, and I'm REALLY pleased with the results!

Everything else was just sculpt and paint. Supergirl already had the skirt, so one less problem to solve there. I once again made use of the colored costume gems for her brooch and bracers, and side pocket belt was a random strip of rubber. Nothing to it!

Princess Adora's only accessory (for now) is her Sword of Protection. Naturally, as with Prince Adam, this is the She-Ra figure's original sword repainted to match the "transformed" version. As for her horse Spirit, well . . . let's just call this a teaser for a future custom, yes?

For the honor of Grayskull!