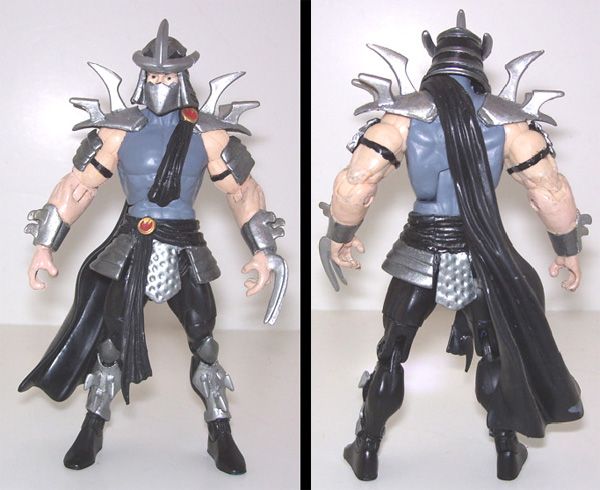 Well, it's been a long time in coming (about two years, four turtles, one collector's figure, and one vehicle), but I'm finally bringing on the bad guys in my TMNT line! I was originally planning to wait on this guy and enter him in the Vile Volitions Custom Contest, but I've got other plans there, so he goes up early. Here he is, the yin to the TMNT's yang, the karate king of crime, Master Shredder!

NOTE: For the sticklers in the audience, yes, I know yin and yang are NOT representative of evil and good, and I likewise know that the TMNT and their enemies do not, strictly speaking, use karate.

As with my other Turtles figures, as well as my MOTU Hybrid series, I'm trying to combine what I feel is best about all generations of the characters. For this piece, I was going for the general color scheme of the '80s cartoon, the scale and poseability of the '07 toys, and the "cool factor" of both the '07 and '03 designs. Seeing as the '07 Shredder (no, he didn't really appear in the movie, but he did have a figure made . . . in case you were confused) wasn't nearly as poseable as his reptilian counterparts, I started with a different base figure, namely a spare DCUC Aquaman I had lying around (the black and blue "ocean spray" version). I replaced his arms with the bare-skin arms of a ML Movie Juggernaut, to give Shredder some slightly cartoonish muscle proportions, and to save me the hassle of trying to flesh-tone paint the Aquaman figure's black and blue ball shoulders. I further swapped his forearms with a pair from an '03 Shredder, mostly just for the armor and spikes.

The armor was harvested from both Shredder figures. Shoulder pads were '03, shoulder spikes were '07, knees and shins were '07, and the belt-sash and skirt were '03. The head with removable helm was from the '07 figure. After a complete paint job (including three shades of metal: steel, silver, and gunmetal), I had a highly poseable shredder, with ball shoulders, double-T hips, hinge knees, ankles, abs, and elbows, rotating biceps, waist, wrists, and thighs, and a tilt/rotate head.

Shredder comes with a MOUNTAIN of accessories:
- 1 sword, pictured, came with '07 figure, repainted.
- 1 double sword, pictured, came with the '03 figure, breaks into two swords.
- 1 Guan Dao staff weapon, pictured, came with '03 figure, not really sure why a Japanese crime boss came with a Chinese polearm, but whatever.
- 1 shield, not pictured, came with '07 figure.
- 2 nunchaku, not pictured, leftovers from '03 Michelangelo, Shredder isn't commonly associated with nunchucks, but he's a master of ninjitsu, I imagine he knows how to use them, right?
- 1 cape, pictured, taken from a ML Magneto (like you didn't already know), for when Shredder wants to loom menacingly.
- 1 sash, pictured, came with the '07 figure, I added a wire to the underside to make it more poseable, for the ninja crime lord on the go, something lighter that doesn't get in the way like a cape, but still looks stylish!
- 1 helmet, pictured, came with the '07 figure, protects his noggin, duh!

Turtle Power!