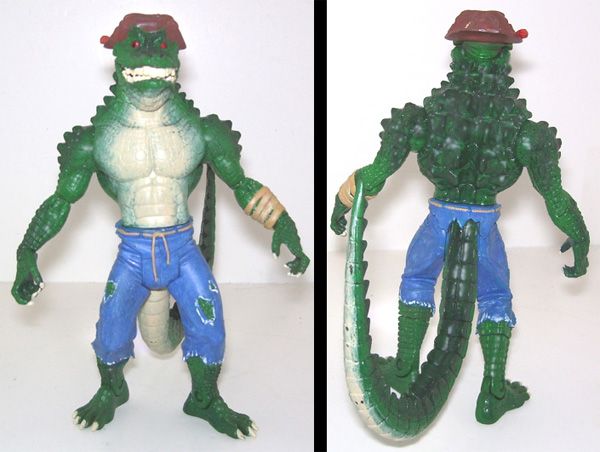 So another day, another TMNT custom. Second of the villains here, in the form of the killer Cajun croc, ole' Leatherhead!

Apparently, everyone and his cousin's pet dog decided to enter the Vile Volitions Custom Contest, so this entry was understandably overshadowed by some truly AMAZING work. Nevertheless, facing the judgment of your peers is the best way to drive improvement, so it was worthwhile, regardless (although I think poor Red Skull kinda got shafted). Ah well, learning experiences.

For some reason, this one version of Killer Croc was mistakenly given a tail, making it a perfect base for Leatherhead. Replaced the head with head from the original '80s figure, complete with opening mouth. Sculpted neck to make it seamless with the heavily scaled back. Added elbows with bicep rotation, and shin rotation, didn't add knees for fear of ruining sculpt. Multi-layered paint job, with two shades of green, gradated tan underbelly, leather hat, and blue pants with dry-brush white to make them look like tattered jeans. My brother tells me that his paint job is some of my best work, and I'm inclined to agree. He really looks awesome, IRL.

Turtle Power!