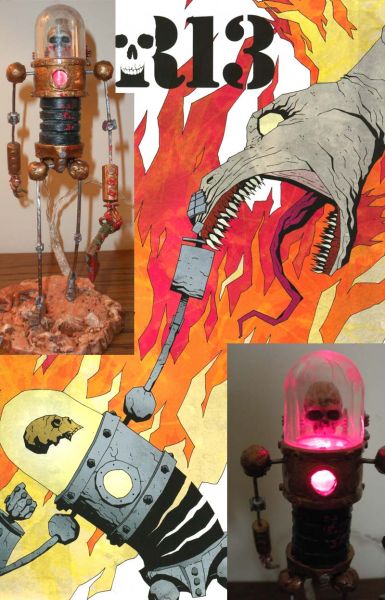 Robot 13, Monster Killer. Obscure mini-series from Blacklist Studios, very gritty and epic. Check it out.

Robot 13 is not a steampunk robot, but rather an "alchemal" robot fashioned in Ancient Greece to fight monsters. In flashback he's a shining gold and bronze hero. Then he fell into the ocean for 2,000 years to be dredged up in 1939. The shine is gone, and he's a stripped-down mess. And, we learn, the robot's "magic" central processing unit was some guy's head. Never daunted, R13 picks up where he left off, hunting down squids and a Cyclops, whom he kills by basically slamming a fisherman's hatchet into its skull till it stops moving.

He's made of scrap. His torso is a plumbing fitting and a wine cork on a GI Joe pelvis. His skull is from a kid's toy glued inside a 1-inch acrylic test tube that took two years to find while he waited on the back of the shelf. He's lit by a torch lifted from a kid's castle. Wires trail out the back, and I just left them hanging. The rest is green putty, Legos, wire, and chain links for fingers. He's painted in Testors Gold, Rust, Steel, Copper, and Brass, and a greenish wash for long-time submersion.

The mystery is to be continued. Like, why does an ancient Greek robot have a "13" carved into its skull?