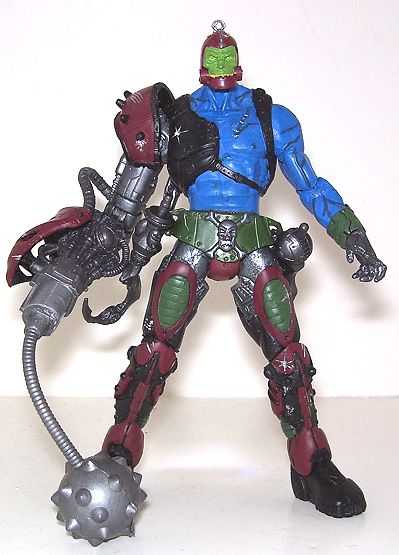 I've been posting good guy after good guy (or girl, as the case may be) in my MOTU Hybrid line, I guess it's time for another villain. And what a villain I have for you today! The sinister, psychotic, cybernetic space pirate, Trap-Jaw!

MOTU Hybrid is my attempt to unify the best of all three MOTU eras. The ideas (i.e. color schemes and concepts) of the original cartoon, the sculpts of the 2002 toys, and the articulation of modern figures, at a far more reasonable cost. And this time around, all three goals came together beautifully to make a SPECTACULAR toy, if I do say so myself!

I got Trap-Jaw for almost no cost, due to the fact that his mechanical arm was broken off his body. Easily fixed by replacing the damaged shoulder disk with a new one from a fodder figure. The rest was the usual joint swapping, with a slight twist: unlike my other figures, where I simply have a rotation cut right through the thigh, Trap-Jaw's sculpt allowed me to do something a little different. By carefully cutting down the sides and top of his thigh-high cyborg "boots," then hollowing out the boot and re-sculpting the leg, I was able to hide his thigh rotation beneath the boot, so the leg actually rotates WITHIN the upper boot-cuff, making the whole figure look much more natural. In addition to his new thigh rotation, Trap-Jaw now has hinge knees and elbows and ankles, rocker ankles, bicep and shin rotation, plus his existing ball hips and shoulders, and his rotating waist and neck and wrists.

Trap-Jaw's color scheme is a fusion of his 2002 design and his '80s cartoon motif. I left most of his mechanical parts gunmetal, but I added a number of rusty maroon highlights to his legs and arms that call back to the Filmation color scheme (though not nearly as bright fuchsia as their palette, I felt something duller was more realistic). His body was painted in a bright classic blue, with dark, navy veins and scars. I left his green as is, and painted all the scratches, nicks, and dings in his armor silver to indicate damaged metal and chipped paint.

But the REAL fun was Trap-Jaw's arsenal! Being Skeletor's weapons expert, Trap-Jaw is essentially a bionic Swiss Army Knife, and I built him a variety of tools worthy of his trade. Trap-Jaw has:
- 1 blaster weapon, originally came with the figure.
- 1 hook, came with the figure.
- 1 clamp-claw, came with the figure.
- 1 axe, made from a random MOTU weapon.
- 1 mace, made from random weapon fodder and a flexible "power cable" from an old Apocalypse figure.
- 1 chain whip, made from a random MOTU weapon.
- 1 chainsaw, made from a dollar store figure accessory.
- 1 grip claw, made from a random MOTU missile.

Who knows, I may even make more in the future! But for now, Trap-Jaw is armed and ready to take on any threat my figure shelf can throw at him!

By the power of Grayskull!