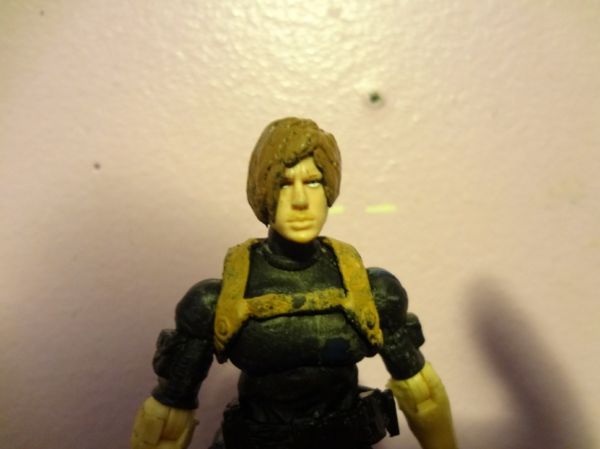 my work is inspired from lonerob i wanted my own so i customized my parts are almost the same as lonerob but i used a 25th anniversary snake eyes and he used a poc snake eyes tornado kick which doesnt have stomach articiulation so i switchedit up from tht im not trying to take credit from his but i thought i would just show u how mine turned out plz tell me on how i can improve and comment see ya later here is alot of info on leon s. kennedy



Leon debuted in Resident Evil 2 as one of the game's two main protagonists, along with Claire Redfield. In the story, he is a rookie cop who arrives to the town just after the zombie outbreak started up, and he meets Claire by chance when she too is being ambushed by zombies. They escape to the Raccoon City Police Department after a brief separation following an explosion, and manage to find a way to get into the sewage system via finding a series of key items, and they use a tram to reach the lab, which as misfortune would have it is owned by Umbrella Inc, those responsible for the viral outbreak.

When Leon first enters the car park in the police department, he meets Ada Wong, a mysterious woman claiming to be looking for her boyfriend, a researcher called John. It is eventually revealed that Ada is really a spy seeking a sample of the G-Virus for her unknown employer. She seemingly dies from a gruesome injury, inflicted upon her by the Mr. X Tyrant that pursues the characters. Later on, Ada is seen on a platform as she tosses down the Rocket Launcher, therefore indirectly allowing Leon (or Claire depending on the scenario) to kill the Mr. X Tyrant. In the end, Leon also faces and kills a grotesque looking Birkin in his final form, and escapes via a train set to explode, with Claire and a little girl called Sherry, who is William's daughter.

An epilogue obtained after completing Resident Evil 3: Nemesis reveals that Leon later joined the U.S. government. He is also mentioned in Resident Evil Survivor by Ark Thompson, the player character, and by Claire in Resident Evil Code: Veronica when she contacts Leon to relay info to her brother Chris, while she is stuck on Rockfort Island. Leon also starred alongside Barry Burton in the Game Boy Color only title Resident Evil Gaiden, but this was a non canon entry that was a stand alone adventure.

Leon was the main protagonist of Resident Evil 4, a third person shooter which saw a radical change to the overall gameplay. Six years after Leon survived Raccoon City, Leon is now a special agent for the United States Secret Service, and is assigned to rescue the newly-elected President's daughter, Ashley Graham, who is being held somewhere in Europe.[14] Her kidnappers turn out to be part of a cult known as Los Illuminados,[15] which has taken control of the local villagers with parasites known as Las Plagas. They immediately attack Leon when he enters the village, forcing Leon to fight back using whatever means necessary. As he searches for Ashley, Leon is also captured and injected with parasites. With help from Luis Sera, an Illuminados researcher, and the returning Ada, Leon is able to remove Las Plagas from his body and rescue Ashley while confronting the cult. At the climax of the game, Leon kills the cult leader Saddler but is forced to give a Plagas sample to Ada, who escapes in a helicopter, leaving Leon and Ashley to escape using a jet-ski.

Resident Evil: The Darkside Chronicles features re-imaginings of Resident Evil 2 and Resident Evil: Code Veronica, as well as a new scenario serving as a midquel, involving Leon and Jack Krauser, on a mission set in 2002 to search for Javier Hidalgo, an ex-drug lord who had been reported to be approaching Umbrella Inc.

Leon is also set to appear in the upcoming title, Resident Evil: Operation Raccoon City. Revisiting the Raccoon City incident, the player controls Umbrella operatives sent to kill any survivors, and certain actions can lead to Leon's death.[16] He is also a playable character in the Heroes Mode.

It has recently been revealed in the trailer for Resident Evil 6 that Leon will be one of what looks to be three main protagonists, alongside Chris Redfield and another currently unknown male[17].