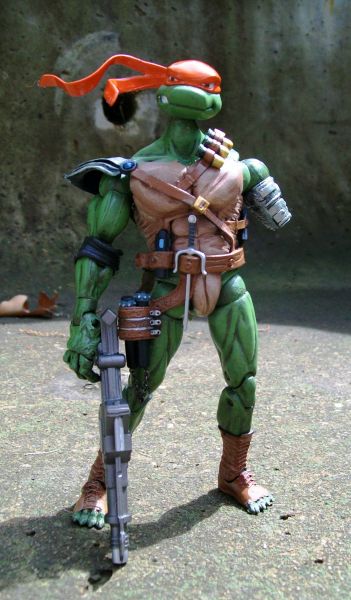 Michelangelo has always been my favorite turtle in all the TMNT incarnations. I just have never brought myself to do a figure because I didn't want a figure of my favorite turtle that I couldn't be completely proud of. So I finally settled in to complete my first Michelangelo, and yes I love how it came out.

While his appearance may seem bit different than one would think, this is actually based off an episode of the 200x TMNT cartoon series. The episode was entitled "Same As It Never Was," and frankly it probably had one of the largest death counts in any Saturday morning-esque cartoon. If you've never seen the series, you owe it to yourself to find this episode and watch it.

Also because I like to give backstories for customs I make, we're pretending that this is one of many Turtle-verses. When Dimension X was sealed by the Turtles (according to the government though it was a gas leak), causing an implosion pulling anything within its grasp into the Dimension. Raphael was the unlucky one, being ripped from his bindings by the pressure, Michelangelo desperately tried to hold on to his brother swearing to hold on no matter what.

Raphael: Let go Mikey!
Michelangelo: I'm not letting go, no matter what.
Raphael: It's too late numb-skull, let me go n...(the portal closes)
(Michelangelo collapses to the ground, sobbing, not noticing that his arm had been severed by the closing portal)

Fast forward a few years the world has seemingly forgotten the events that day, but the Turtles have not, Michelangelo took to carrying a sai as well as his nunchucks in honor of his fallen brother. They have continued to face enemies that had remained on Earth, as well as the gangs of New York and the Foot Clan. Many of the enemies are still unlike anything that humans have faced, new methods of fighting then have been adapted, with aid from new allies including a 15 year old conspiracy blogger named April O'Neil and a young NY Detective named Marisol Garcia, along with old allies such as the Vigilante Casey Jones. The Turtles and the human allies continue to fight battles that are rarely seen by the public.

Recipe: UFC figure, TMNT Raphael head (repainted), right hand of Venom (continuing the image of Turtles with more practical hands and feet used in my last Leonardo), some Apoxie, and various other odds and ends. The belt was a challenge, made up of about 10 different belts pieced together.

Regardless, I am actually rather proud of how this one came out.