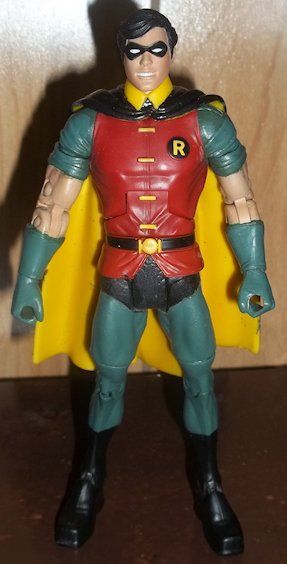 So, I have what I call the "Epic Batman collection" of figures growing on my shelves, made up of 4 different Batman sets: Arkham, DCUC, Movie Masters, and Lego (Just 'cuz). It became apparent to me more recently that, as much as I love Tim Drake, Richard Grayson was a much more fitting choice for my collection (especially since Arkham and Lego both feature Tim-Robin anyway). But I refused, point blank, to showcase underwear-and-pixie-boots Robin.

Instead, I decided on a sort of compromise. I based this outfit loosely on the costume Richard wore in the Batman Animated series, though I left several of the original elements (Belt, Collar, Red Tunic) mostly because I was too lazy to change them, but I don't think they look out of place either.

My Robin figure is mostly just the Classic Robin from DCUC wave 16 (which I needed to buy for Bane anyway) with lower legs "donated" from a Young Justice Red Arrow figure. This was unfortunately my first attempt at swapping limbs, and I had something of an accident... the peg on RA's left leg broke off, and I had to glue it permanently on Robin, so that joint no longer rotates. Even so, it looks just fine standing alongside my Batman figure.