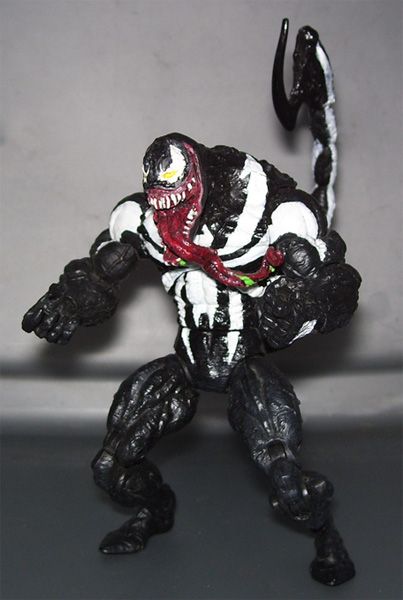 My entry into the Shapeshifter's contest is an older custom of mine, but one I'm really happy with. Usually, when I post older work, I repaint and make minor modifications before taking pictures. This figure needed no changes. As far as I'm concerned, he was done as well as he needed to be the moment I finished him three years ago. Now I share him with the Realm. Say hi to the third (major) host of the Venom symbiote, Mac Gargan, the Scorpio-Venom!

Simple custom, really, but a necessary one in my opinion. Never cared for the design of the scorpion tail on Hasbro's Venom figures (too bulky, and insectoid), or the spider logo they used (wrong logo on the first release, too spindly and stylized on the second). I based this off Scorpio-Venom's first appearance. I started with a basic Eddie Venom, carved out the eyes, repainted the spider, and gave him a slimmer, faster-looking tail from an old pre-legends ToyBiz Scorpion figure. It's more flexible because it's thinner and wired rather than jointed. Texturing on the tail is a combination of hot glue and gouging the tail's surface with a Dremel to give it an oozy, sybiote look.

Dead last, huh? Heh, oh well. It IS a really basic figure. I hadn't planned on entering this contest in the first place, but since I had Venom on the block anyway, I though, "why not?" Didn't really have a dog in this fight, so I'm fine with the result. And really, everyone else's work was top notch. Absorbing Man TOTALLY deserved the win!

Excelsior!