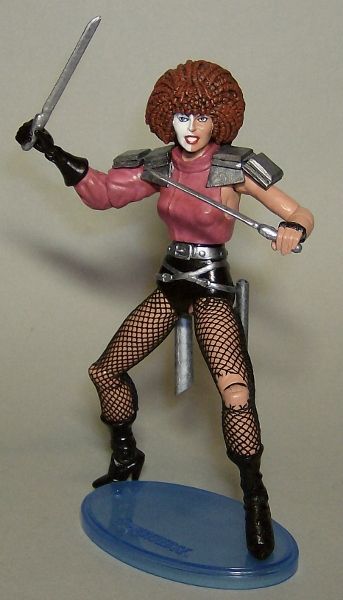 Recipe:
Marvel Legends Ronan Series Invisible Woman body
Marvel Legends Phoenix head
Marvel Legends Series 4 Elektra lower arms/hands
Marvel Legends Psylocke lower legs
Marvel Legends Storm feet
Random fodder shoulder joint
Doll fishnet stockings
Spider-Man Classics Kraven swords
Stick from stick balloon
Styrene
Apoxie Sculpt

I started with a Ronan series Invisible Woman body. I replaced her lower arms and hands with those from a Toybiz Elektra, cut just above the wrist swivel, so that she could hold her swords. The lower legs come from a Marvel Legends Psylocke, cut just above the joint, and the high heeled feet are casts of Marvel Legends Storm's.

For the coat, I first wrapped a piece of thin plastic around her torso,underneath the breasts. This formed the bottom edge of the coat, and gave me a base to sculpt on while still retaining the torso articulation. Since her coat only has one sleeve, and it is considerably baggy, I replaced her right elbow joint with a larger shoulder joint from the fodder box, and sculpted the rest of that sleeve.

The head is a cast of a series 6 Phoenix head, with a lot of sculpted hair. In the comics, she had really big hair hanging down all around her shoulders. The hair I sculpted isn't an exact match, but its as close as I could get and still retain the neck articulation.

To keep her shoulders articulated beneath the shoulder armor,I sandwiched a piece of silver ribbon between two pieces of styrene. This acts as a hinge, so that when her arms are raised, the piece of armor hanging down over her arm flips up.

The fishnet stockings are doll fishnets. I attached them to the figure by gluing them at the top and bottom of the leg. I sculpted over the joint where the hip ball connects to the leg to make it easier to glue the fishnets on.

The swords are casts of Spider-Man Classics Kraven's sword, with the blades sanded down thinner. The scabbards are cut from the plastic stick from a stick balloon. The scabbards are held to her butt by little nails. The belts, as well as other costume details, were sculpted with Apoxie Sculpt. Thanks for looking!