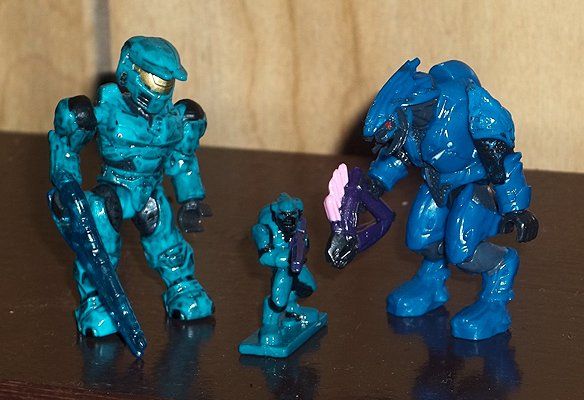 | | |
| --- | --- |
| Custom #: | 38318 |
| Name: | Mega Bloks: Junior (Rvb) |
| Custom Type: | Miniature / Figurine |
| Toy Series: | Halo |
| Creator: | TomatoisJP |
| Date Added: | April 13, 2012 |
| Base Figure: | Halo Universe Elite |
| Height: | 1.00 inches |
So of all the characters in Red vs. Blue, the one that's had me stumped for the longest time is Junior, the baby alien from Season 5. As it was, the mega bloks minifigures were probably the most miniscule version of Halo characters available at the time, and trying to find something small enough to be Junior (that I didn't have to sculpt myself, mind you) wasn't something I held high hopes for. I considered doing an "adult" version, but in the end I more or less just decided to shelve Junior, along with several other RvB characters, until I could manage to do them justice.

However, about a week or two ago I decided to check the Mega Bloks blog, just to catch up on what I'd missed. Not only was Mega Bloks starting up the "ARMORY Initiative," a way to sell multiple armor permutations instead of just making an "EOD Spartan" or a "CQB Spartan," they were also promoting something called "Halo Universe," which featured miniature versions of the normal builds.

Now, I'm not going to argue the viability of Halo Universe... Personally, I think it's kind of a waste of their time in the long run, but that's just me. The point is, included with these little sets were 1 inch little Spartans, Elites, Marines, and Grunts that looked kinda like tiny versions of the old-school army men.

So yeah, I now had my Junior. But getting it was one thing, now I had to paint the little abomination of nature. This is probably the most difficult paint job I've ever had to do, including the similarly scaled Heroclix Wasp. I put tremendous effort into getting this thing as close to game-accurate as possible. As such, I am really proud of how this little guy turned out.

Also, just to preempt anyone who might complain about the fact that Junior is not just Aqua, but also had a secondary blue color in Season 5, two things. First, you want to try painting a secondary color on something that's the size of a Quarter, be my guest. Second, the most recent appearance of the character (from a Season 9 "deleted scene") shows him using just teal. I might go back and add blue in if he shows up with the old colors later in the series, but I'm happy with how it is at the moment.