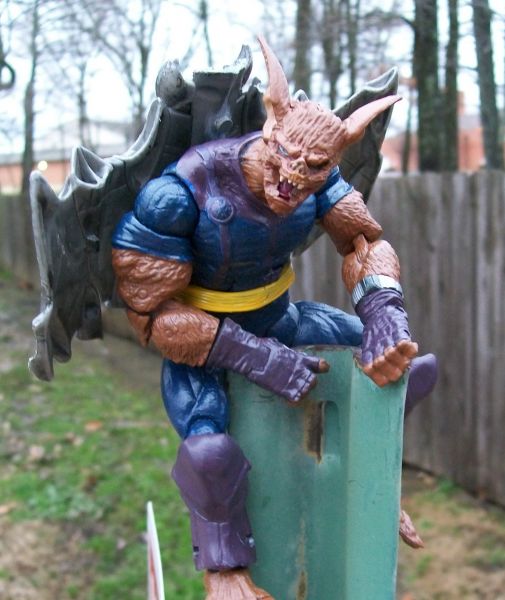 It seems that I'm officially posting the first Wingnut figure of the Realm.

If you're not sure of who Wingnut is, he was in a single episode of the original Ninja Turtles cartoon, before that he was one of the action figures, but his most common appearance was in the Mutanimals team in the Archie Ninja Turtles series. He was partnered with a Mosquito-esque sidekick (Wingnut), which I wasn't able to create...yet...

Anyways, I figured I would try to add some diversity to the TMNT Customs...hopefully come up with several other members of the Mutanimals. As you can see in the last picture I have added Leatherhead and Ninjara (who was to join had the Mutanimals had the proposed cartoon been green-lighted).

Now to add to the story I have plotted in my head, picking up from a loose continuity stemmed from the original series.

Wingnut, after his brief appearance in New York, before "beating feet," and moved out west, as a means to re-examine their purpose on Earth, discovering what the Earthlings called "comic books" the duo began reading and finding themselves pulled into the world of superheroes. Wingnut and Screwloose decided to fight as good guys, after meeting another reformed villain, Leatherhead, they decided to form their own team of Mutants, eventually joined by Mondo Gecko (another reformed villain) who acted as their direct liaison to the Mutant Foundation in New York, as well as the Mutants Dreadmon and Jagwar as well as others. Calling themselves the Mighty Mutantimals, they eventually ran afoul of an agency called the Malignins…which were in actuality a front for an alien queen called Maligna, who eventually took an ally who had been ousted from New York named Pimiko, which led to Ninjara migrating westward and joining up with the Mutanimals.

Wingnut here was made with a XML Stealth Beast, the head was that of a Man-Bat figure (had to build up the jawline with Apoxy, something was still not right with it though, ergo I painted the eyes, and amazingly it makes the character looks drastically different), the wings were a Hobgoblin Glider (I never actually thought I would use it for anything), and it can be attached via magnets to his back. A paint job later, and I have a Wingnut to add to the collection.