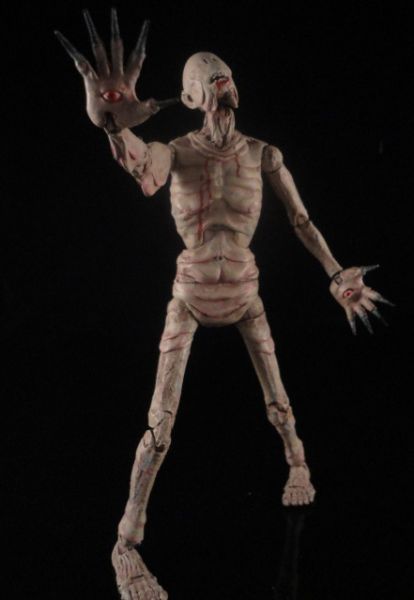 In my opinion, Pans Labyrinth is one of the, if not the best, modern fairy tale. Its got the all the right elements: magic, wonder, monsters, brutality. Really awesome stuff, and I've always wanted to make figures for them. When I saw that the next contests theme was "fairy tales" i figured what the heck, and went to it.

This is the Pale Man. In the film, he was the guardian of the second task. His room is covered in murals of him slaughtering children and eating them, and he keeps his eyes on a plate in front of him. He sits silently, patiently waiting for anyone to try to eat any of the feast laid out on the table. If anyone dares, he awakens, hunts them down, and eviscerates them.

The figure was made from a LCBH Judge death, almost completely sculpted over, with a 100% sculpted head. It was a... different experience sculpting sagging-man-breasts, but hey, we do what the task demands, right? I sanded down his legs as much as i felt comfortable, but unfortunately i couldn't get them as spindly as they are in the movie without the plastic being in danger of snapping. Painted him up with his pallid tone, painted on all those little blue veins, then dry brushed the flesh tone i mixed over them to make it look like he has that thin translucent skin.

Hope you guys like him!