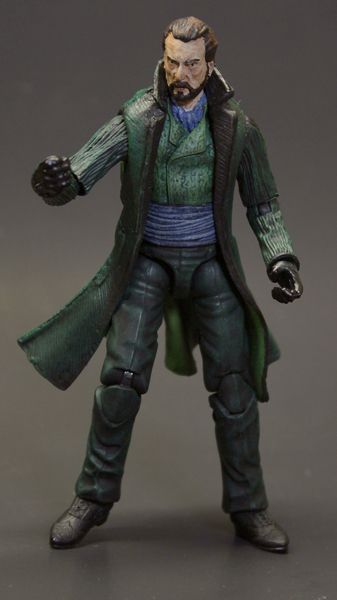 | | |
| --- | --- |
| Custom #: | 38621 |
| Name: | Edgar Latterndale |
| Custom Type: | Action Figure |
| Toy Series: | Original |
| Creator: | Hrothmeir |
| Date Added: | April 24, 2012 |
| Base Figure: | Vintage AOTC Anakin |
| Height: | 4.00 inches |
| Articulation: | 22 points |
Okay, before you read this, go back and read the intro on my old "E.H.U.D." figure. Done that? Good. This figure is a character from that same sci-fi, but based on his appearance in the sequel (It's never too early to write sequels to unfinished novels). So: Edgar Latterndale, once U.S. Secretary of Defense, ends up inheriting the presidency (yes, inherit: if enough people die/resign/are incapable of serving in a short amount of time, SecDef can jump ahead in line pretty far). By the end of the first book, Ed is left in charge of the heavily irradiated remains of the U.S. By the middle of the second book (300 years later), he's a ruthless dictator, immortal through cloning (and super powers!) Yeah, it's kinda... weird. You'd have to read it. (Try to find my blog!)

As for the figure:
Arms, Jacket, Legs: RoC CC
Torso, Cummerbund, Other Arms: AotC Whinakin
Head: Evolutions Dooku
Crotch: ??? 25th Joe

So, A while back I planned out the figure using a complete CC, with the torso shaved down and sculpted over, based on the peasant vest worn by Anni in AotC. However, wonder of wonders, I actually found the figure in stores, and found that the thin frame actually worked better with the character's appearance (his super powers are tied to caloric output, thus exceedingly low body volume). Shaved down the weird pistons on CC's arms, sculpted the patches to match the rest of the sleeve, and sculpted the crotch to fit with the torso. Then I painted. Just like my Shipwreck figure, this was done during a lean time at work (round 'bout January), so I painted this in the office. A lot of consideration went into the color scheme: How the color reflected on the character, its symbolic uses in the story, and, of course, the fact that I had THREE JARS OF UNOPENED GREEN PAINT THAT I WAS DYING TO USE! So, there you go. Hope you enjoy...