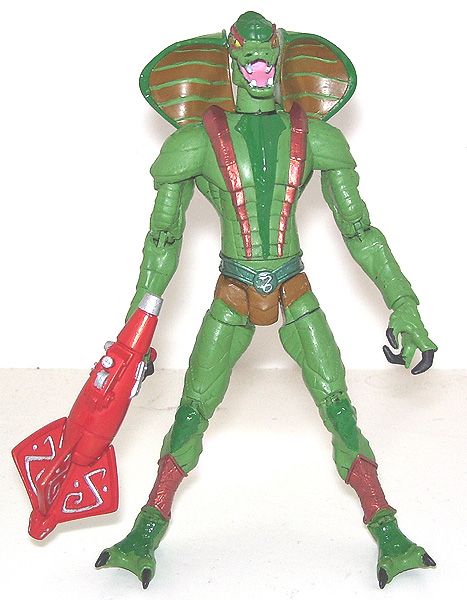 Huh . . . I expected this figure to place higher than my Dragon Man. Guess the Eternian snake henchman doesn't have the same following as an alchemically-modified super-robot made to look like a purple dragon and built to (only theoretically) fight the Fantastic Four to a standstill . . . .

Anyway, what can be said about this latest MOTU Hybrid? No really, say something, 'cuz I'm not terribly familiar with the guy. I mean, I've read up on him, in both his original incarnation and the 2002 revision, but I have no personal investment. He was one of the later characters of the old line I grew up with, and got little screen time or characterization, as with the rest of his fellow Snake-Men. Sure, he got a LOT more development with the later series, but it was kinda too little, too late. Hmm . . . that might explain the lukewarm reaction here on the Realm as well. Ah well, here'sss Ssskeletor'sss sssinissster, ssscaly, sssnake asssasssin, Kobra Khan.

As I've said many times before, MOTU Hybrid is my attempt to unify the best of all three MOTU eras. The ideas (i.e. color schemes and concepts) of the original cartoon, the sculpts of the 2002 toys, and the articulation of modern figures, at a far more reasonable cost. That meant using the original 2002 Mattel action figure instead of the later NECA mini-statue as a base for this toy. The NECA statue looks nicer, but the figure is much cheaper and easier to come by.

Beyond that, there were no real hiccups in the building process. I added full articulation, then repainted the figure head to toe. Kobra now has ball shoulders and hips, rotate biceps, thighs, wrists, ankles, neck, and waist, and hinge elbows, ankles, and knees. Oh, and his jaw moves too. He also maintains his squirt action feature. As for paint, the original toy character design was SO bland, and the cartoon version was even WORSE, so even though I usually err on the side of the old show, this time I had to come up with my own unique color scheme. I really like the results, particularly the flat green skin with gloss green highlights, alongside the metallic green belt . . . nice contrast. Accessories include his Snake Ray Gun with firing Cobra Missile, and his removable cobra hood.

By the power of Grayskull!