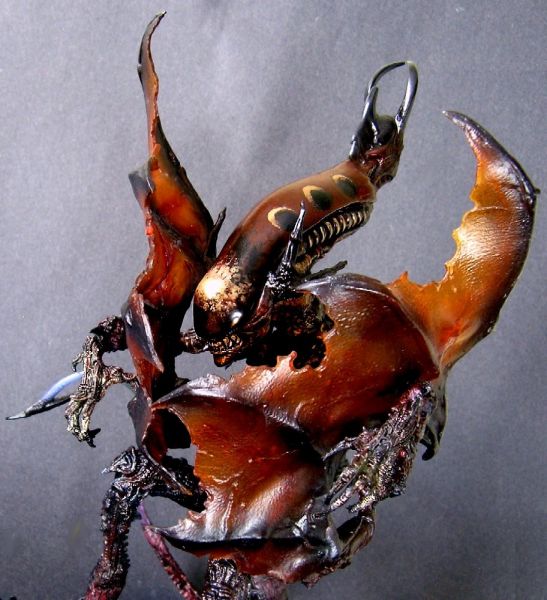 | | |
| --- | --- |
| Custom #: | 39608 |
| Name: | Alien Hybridz Morphology: the Oni W/ Offspring |
| Custom Type: | Action Figure |
| Toy Series: | Aliens |
| Creator: | N TT |
| Date Added: | June 3, 2012 |
| Base Figure: | recipe |
| Height: | 14.00 inches |
Earth's explorers have held the belief that these Alien creatures were no more than slavering beasts, with the single pursuit of propagating its own species while destroying any other life form that posed a threat. Not unlike wasps or termites, Aliens are eusocial with a single Queen breeding a caste of warriors and drones. Predatory by nature, they were not considered to be a life form capable of an intelligent civilization.
To disprove this theory, here is a rare Alien known as the Oni. Translated from Japanese to mean demon spirit, the Oni was an Alien that did not belong to any hierarchy or collective. Primarily an outcast, it served only one purpose - to be a mentor or sensei to a young Queen. Not any Queen could receive the honor to be trained by the Oni. She must first survive the arduous journey, battling wits with Predators and other creatures, in order to reach its lair, hidden miles within an active volcano. The climb down itself proved to be treacherous even for Predators and the overwhelming heat rendered their instruments inoperable. Once there, the Oni is dedicated to pass on all its knowledge and experience to the Offspring. On its homeworld, the Xenomorph were hunted by Predators to near extinction. It was this threat that forced them to go off world, seeking life on other planets. The training given by the Oni prepared the Queen to rule its horde, regardless of how inhospitable these new worlds would be.

Working on ALL these Alien customs covered a 4 year span. While making other customs, any spare apoxie left over, were used to build up the Aliens - letting nothing go to waste. Their designs were pretty much mapped out from the beginning, but along the way, if a better idea presented itself, it would be used. For example, adding the Devilman wings to the Oni was almost a last minute thing. The wings really brought that extra dimension of brimstone, but also obstructed viewing the Alien in all its entirety, so decided to make them removable. Couldn't find a unique looking head for the Oni, (hadn't used before) so got a Schleich toy beluga whale for the top part of the head and sculpted lower jaw/teeth. Added the prongs on the back of its head from a Wild Boar Alien and used a Mcfarlane Alien Spawn for most of the body. Got the upper torso from a Halcyon Alien and the tail is 2 parts: Killer Crab Alien and Devilman Saylos tail. Sculpted details.
The Offspring was made from a Dog Alien body with Kenner Alien head (front) and Mcfarlane Queen head (back).

Quite sure there's no more Aliens to cover, but did manage to update some old variants and completely remade the Uroboros hybrid, which has become a personal favorite from the litter. Thanks for following the series, plenty of room in the Hum-V for the next bug hunt!