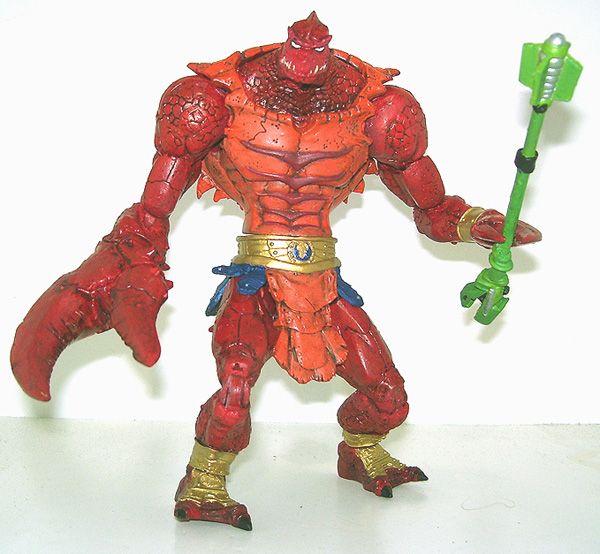 Oh. Dear. GOD. I have been waiting SO LONG to post this figure! A year. AN ENTIRE YEAR, I've been working on this guy on and off. A whole year drilling and digging and cutting and sculpting and finding JUST the right joints, or actually making new joints BY HAND. 12 months. 52 weeks. 365 days, AT MINIMUM. He's been scattered in pieces, taking up so much space on my worktable for so long, I'D FORGOTTEN I HAD THAT MUCH SPACE ON MY WORKTABLE!!

Well, here he is, finally, after all this time, I present Skeletor's huge, hunched henchman, the looming, lethal lobster, Eternia's deadliest catch . . . Clawful!

MOTU Hybrid is my attempt to unify the best of all three MOTU eras. The ideas (i.e. color schemes and concepts) of the original cartoon, the sculpts of the 2002 toys, and the articulation of modern figures, at a far more reasonable cost. Please note that "in a reasonable time frame" isn't even MENTIONED in that criteria (though from now on, it just may be!). What can I say? Sometimes, finding the perfect balance between the Filmation colors, the Four Horsemen's design, NECA's implementation, and the modern articulation is a complicated process. This guy gave me trouble at EVERY step! I'm just glad that now, at last, those troubles are MOSTLY over!

We begin with the NECA 2002 Clawful mini-statue. As with Hordak, Evil-Lyn, and the Sorceress, this figure was originally completely immobile, comprised entirely of hard, black rubber resin. However, that's where the similarities end. Why? Because unlike those three, Clawful is MASSIVE. Massive and VERY solid. Have you ever tried to add joints to a block of plastic? I do NOT recommend it! Further, unlike the previous figures, which had "clothes" (capes and skirts and whatnot) made of separate pieces of thin resin, Clawful's skirt was entirely part of the sculpt. His waist, belt, skirt, hips, and thighs were all one solid mass. Not only did I have to re-sculpt his entire upper legs, not only did I have to add complete ball joints for each hip attached to a functional waist, but I had to individually slice off the outer surface of each leather strap on his sculpted skirt so I could use them in the final product. I cut my fingers more than once. And after hollowing out all his limbs to accommodate his new joints, I was coughing up black resin powder for DAYS. An important lesson kiddies, wear a face mask for those messy projects!

Next came the joints. Big custom figures require big fodder figures, and big fodder costs big money! A general rule of thumb is that you want joints that match the intended final color of the finished figure, to reduce paint wear. Well Clawful is all red, and what big figures have red joints? Red Hulk BAF ($$$), Giant Man BAF ($$$), Onslaught BAF ($$$), etc. Even PARTS of these guys can run the cost of a full figure! Needless say, I had to get creative with some of the joints, and wait (VERY) patiently until I found others on sale for cheap. In a few cases (shoulders specifically), I actually had to fashion entire joints out of LocTite epoxy putty, loops, pins, and all! Ultimately, my patience. creativity, and general engineering ingenuity (say THAT five times fast!) paid off, and I was able to add the full range of MOTUC-style articulation, and then some! Clawful now has hinge knees and elbows, rotating biceps and thighs and wrists and neck and waist, and ball hips and shoulders AND ankles. Clawful also has a hinge in his right claw, the better to trap his enemies with!

Clawful required a LOT of re-sculpting to cover his joints with his craggy, chitinous skin. And then, of course, came the paint. I don't know who was in charge of the color palette for the characters on the original MOTU cartoon, but they should have fired that guy. When the colors weren't boring and uniform (half the villains are mostly blue and purple: Skeletor, Trap-Jaw, Hordak, Webstor, Evil-Lyn), they clashed appallingly. Beast Man and Clawful are perfect examples of BOTH issues. They both share an identical color scheme, but those colors are red and orange with blue highlights! Just Google "teal and orange" and you'll understand what I'm talking about here. But the character's colors are the character's colors, and they're pretty much the same in every version (the toys and the modern redesign may swap the colors to different parts of his body, but it's still red, orange, and blue), so there's no getting away from it. I went with the cartoon layout, like usual, modified to better match the 2002 sculpt. No blue on the chest, and the belt and bracers are now gold instead of orange (I tried a copper/bronze shade, but they just didn't stand out enough), but he still fits the image of the original cartoon character. A dark wash to make all his scales and armor plates and cuts and gouges stand out, and I got one awesome, oceanic arthropod!

I bought the Clawful mini-statue loose, and as such, he didn't come with his green club. Instead of hunting one down on the internet or re-sculpting it by hand from photos, I fashioned a replacement from an old TMNT weapon. The old school Foot Soldiers carried a staff, one end of which had a four-bladed club head that looks strikingly like Clawful's original club. The other end of the staff? A claw. Could you think of a more perfect weapon for my new crimson crab-man?

He's been a labor of love for longer than I care to think about, and more than once I considered just giving up and starting over from scratch. But now he's done and better than I could have hoped, and he can finally take his place with the villains on my MOTU Hybrid shelf!

By the power of Grayskull!