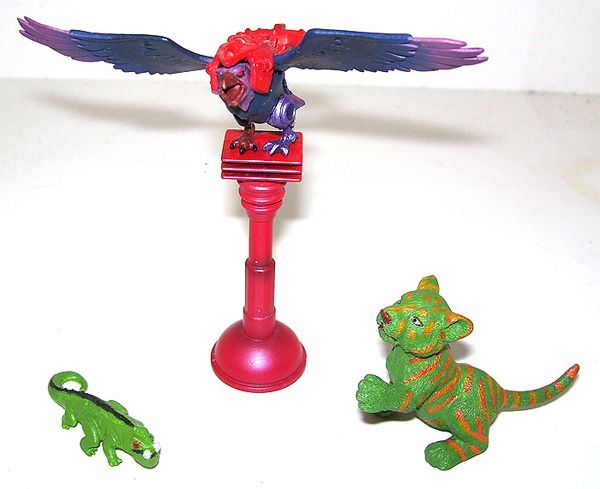 The first "update" to my MOTU Hybrid line, today I'm posting some old familiar faces . . . and some new familiars! And by that, I mean pets. Animal sidekicks. Aren't they just adorable?

First on the list, Screeech the falcon. A pack-in with the NECA Evil-Lyn mini-statue, Screeech was originally permanently attached to his perch. When I removed him, he couldn't free-stand on his own. I had to hollow him out and weight with lead fishing sinkers so that he could sit on his own feet. It was a real pain finding the perfect balance point, and I was ultimately forced to sacrifice my plan to make his weapon harness removeable, but at least he's now perfectly balanced. So long as he's got a level surface, he'll stand at attention all day long.

The baby Cringer was a stroke of good fortune. I found a tiny tiger figurine at the local Goodwill and grabbed him right up. All it took was some paint and patience, and Prince Adam had a cute Cringer kitten companion to cuddle.

In the 2002 cartoon, Kobra Kahn had a pet lizard, Fang. The figure didn't come with one (although the new MOTU Classics figure did), so I needed to make my own. I found a tiny iguana from an Imaginext playset, cut him in half, lengthened him, and added a pair of legs and fangs using LocTite epoxy putty. Paint and done!

Finally, I wanted to show you all my updated Man-at-Arms, Stratos, and Kobra Kahn. After the praise I received for Clawful's paint wash, I decided to revisit a few of my previous figures for some touch-ups. Just a subtle wash to bring out the texture of Duncan's armor, Stratos' feathers, and Kahn's scales, nothing fancy, but they turned out great. As I've said before, I don't like washes, but I concede that it does actually make them pop just that little extra bit.

By the power of Grayskull!