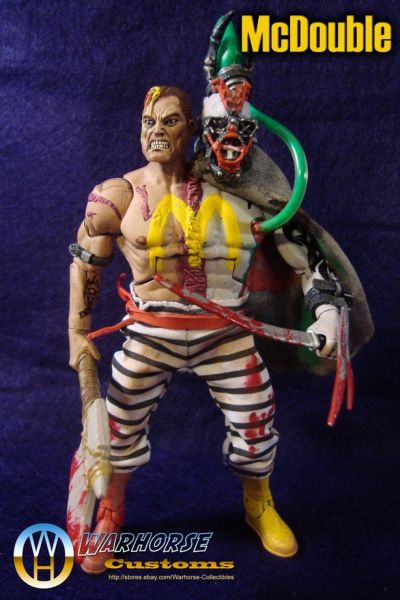 Once the two top "cops" on the McDonaldland police force, the Blase twins were notorious badasses. With their almost telepathic ability to read one another they were a devastating force against the enemies of McDonaldland. One fateful night they became separated when a caravan they were escorting was attacked by werewolf women, Ryan Blase was captured by the werewolves and his brother Jacob was left wounded and pinned under a truck, his presence unnoticed by the werewolf women. Ryan managed to escape captivity and found his way back to McDonaldland, but could find no trace of his brother.

Jacob was left in the wasteland broken and mangled. Aftger several days of trying to drag his body back to Mcdonaldland, Jacob was attacked by what appeared to be zombie coyotes. He had heard tales of zombie-like creatures in the wasteland, but never believed them until now. He noticed strange silver worm-like creatures within the flesh of the decaying coyotes attacking him, and was even more surprised to see them apparently crawling into his wounds. He managed to fight off the coyotes, and watched in amazement as the silver worms began to heal his wounds. With his wounds healed and his nerves no longer sensing pain, Jacob was able to make it to McDonaldland quickly, driven by an insatiable desire to bite and infect others with the worms. Making his way home, he immediately attacked his brother, eager to share his gift with him. After devouring a large portion of his brother, he was horrified to see the worms dying around Ryan's body and the wounds not healing as his had. He dragged Ryan's body to The Professor, who told him he had been working on a vaccine for the silver worms, and had recently inoculated Ryan. The Professor was pleased to see his vaccine working, but Ryan was dying. Driven by his madness, Jacob came up with a plan, and forced The Professor to make it happen. When the surgery was complete, the twins shared one body, Ryan having the sanity to keep his now insane brother in check, and Jacob having the strength to support his brother's body while he healed from his wounds. Now freaks in the community, the brothers took the name McDouble after their favorite book in the McDonaldland Bible, and fled into the Wastelands. Their current whereabouts are unknown.


After Fast Freddie planted the seed, I had to make this figure. Base is a Reverse flash and Bronze Tiger, head from Stryker, right head from Stargate figure with mask from Silent Screamers Renfield, real leather "skirt", leather front piece and leather straps from Clive Barker Tortured Souls figure, I.V. bag from Blade figure, "arm" holding the bag from Rob Zombie figure. I dremelled the flash and bronze tiger figures in half, and glued them together, I managed to maintain most articulation, the only thing I lost was the waist swivel.

I redesigned McDouble thinking I had made him too generic of a character, I wanted to McDonaldland him up some. I added the pants from a Hamburglar figure, painted the mask to resemble Ronald McDonald's face, painted the boots, added some golden arches war paint and emblem on the cape.