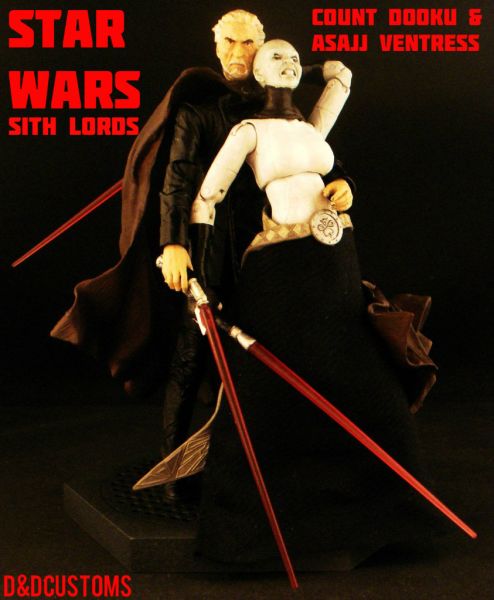 | | |
| --- | --- |
| Custom #: | 41609 |
| Name: | Dark Jedi Asajj Ventress Sith Lord |
| Custom Type: | Action Figure |
| Toy Series: | Star Wars |
| Creator: | D&DCUSTOMS |
| Date Added: | August 9, 2012 |
| Base Figure: | multiple |
| Height: | 6.50 inches |
| Completion Time: | 48.00 hours |
| Articulation: | 40 points |
A Custom Marvel Legends DCU Style 6 to 6.5 inch 1:12th scale Fully poseable DARK JEDI ASAJJ VENTRESS SITH LORD ACTION FIGURE. Custom sculpting, dremeling,and rearranging of multiple parts from two different base figures. Primed and painted when needed, colorwashed and sealed for different shades.
Over 40 points of articulation. Ball jointed shoulders, head rotates, swivel arms moveable wrists, double jointed bendable elbows and knees and hip joints and other swivel parts etc. to allow for multiple positions. Her two curved lightsabers can separate from the hilt.

SITH LORD ASAJJ VENTRESS the DARK JEDI SITH ASSASSIN version 1.0

Easily one of my favorite Star Wars CLONE WARS characters.

Ventress is a DARK JEDI, and one of COUNT DOOKU's FORCE-attuned apprentices and assassins. She is a powerful warrior with exceptional combat abilities, and desires most of all to join the SITH order and destroy the JEDI. She wields dual curved red lightsabers.
Ventress' back story is explained in the third season of Star Wars: The Clone Wars. She hails from the planet of DATHOMIR. She was sold by the nightsisters to criminals and spends her early years in Rakattatak. She would have likely been killed in a pirate raid if not for the Jedi Ky Narec, who had crashed on Rattatak. Narec sensed the potential of Ventress, and so he trained her in the ways of the Jedi. However, the warlords of the planet become concerned by the duo's prowess and under the leadership of Osika Kirske they kill Narec before Ventress can become a full-fledged Jedi. She develops an implacable hatred of the other Jedi who had abandoned her master and ignored the bloodshed on her planet.
In the Clone Wars series, Ventress appears before Count Dooku when he arrives on Rattatak to add it to his Separatist movement. Ventress defeats every other combatant in a large arena and claims to be a Sith warrior. Though impressed by her victory in the arena, Dooku laughs aside the notion that she is a Sith. The enraged Ventress tries to attack him, but he renders her unconscious with a blast FORCE LIGHTNING. After she wakes, Dooku abruptly attempts to attack her, but she jumps backwards and ignites her lightsabers. A short duel takes place in Ventress' quarters, but Dooku cuts her lightsabers in half and renders her defenseless. The Count states that it would not be so easy to defeat a Sith warrior, but he is nonetheless impressed with Ventress' abilities. He recruits her by appealing to her hatred of the Jedi. Once he has enticed her into his service, he appoints her commander of his Separatist forces. He presents her with a pair of lightsabers with curved hilts. Dooku's master, DARTH SIDIOUS, then appears before Ventress, and personally assigns her to kill Anakin Skywalker. After she leaves, Sidious tells Dooku that her failure is certain, and that she is merely an instrument used to test Skywalker's willingness to release his anger.

PLEASE SEE ALL OF OUR OTHER twenty to thirty STAR WARS 6 INCH 1:12th SCALE SITH LORDS & JEDIs and BOUNTY HUNTERS going up this week and next.