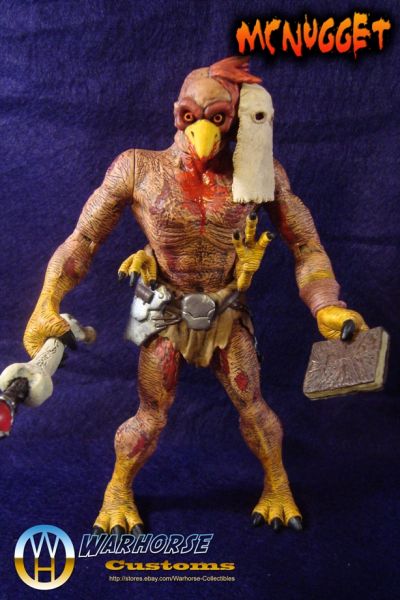 The "Shaman of the Wasteland," James Arch was a priest in the McTemple of Mayor McCheese until a tainted batch of bioengineered McNuggets led to his mutation.
The avian DNA added to the wolf meat to create the chicken flavor was contaminated in a batch of McNuggets, and about 85 citizens of McDonaldland were affected before the batch was identified and recalled. James' mutation was much worse than the other Bird People's, he not only sprouted feathers and a pair of vestigial talons, he also grew a vestigial head out of the side of his face. The "Bird People" as they became known were oppressed by the other mutants, largely due to their even more bizarre appearance, and were eventually placed in labor camps by the other McDonaldland mutants. James became the religious leader of the bird people, while his sister, Birdie, suffering from an avian mutation, became the martial leader. The bird people rebelled against their oppressors, and escaped the labor camps into the Wasteland. The few Bird People that escaped into the Wasteland struggled for years, surviving only due to the leadership of James and Birdie, until they were attacked by a band of Werewolf Women. The Bird People were outnumbered and outgunned, and the Werewolf Women made short work of them. Birdie and James stood back to back fighting the Werewolves, the last two survivors of the massacre. James was blindsided by a werewolf with a flamethrower and was completely engulfed in flame. Seeing her brother die had a tremendous affect on Birdie, and after decapitating two of the werewolves, she flew away, lucky that she was the only of the Birdfolk gifted with wings that gave her the ability to fly. James awoke the next day, thinking he was the last of the Bird People, just as Birdie was certain she was the last. Examining his burned flesh, all remnants of his feathers burned away, James chuckled, "We look like a Mayor-Damned McNugget." Thus McNugget was born, and he struggled through the Wasteland, solitude and horror damaging his psyche until he had reverted to a nearly beastial state. Then, fate would take its course and McNugget came across the remains of a library where he found a readable copy of a tale by the prophet HP Lovecraft called "At the Mountains of Madness." Finding renewed purpose in his life, McNugget wandered the Wasteland preaching the coming of The Old Ones.

I made McNugget from a Shrieker figure, I added the arms from a Jurassic Park toy, the skirt from Skaar, sculpted beak and "hair", the book is the Necronomicon, hood from Turnbull, staff made from the bone that came with the Shrieker with a piece from a McFarlane figure and orb and skull from a Lady Demon accessory.