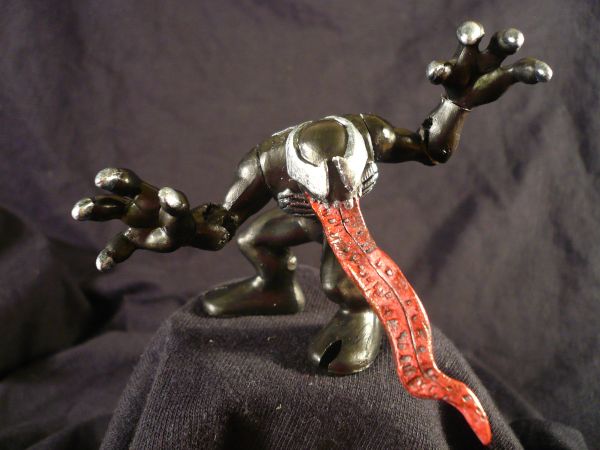 | | |
| --- | --- |
| Custom #: | 42637 |
| Name: | Custom Super Hero Squad Venom |
| Custom Type: | Action Figure |
| Toy Series: | Venom |
| Creator: | Jaida |
| Date Added: | September 10, 2012 |
| Base Figure: | Super Hero Squad Carnage. |
| Height: | 2.00 inches |
| Completion Time: | 20.00 hours |
| Articulation: | 8 points |
1 super hero squad Carnage, 3 screws, Testors Model Master acryl, and sculpey.

I don't really like carnage, but I wanted the spider-ben that came with it. I decided to convert him into my own venom instead. I heated the arms and head and removed them, then straightened the arms a bit. I studied the elbow joint of a spare figure, then cut the arm at to give him an elbow joint. It worked, but was a little rough. I did learn enough from that arm to cut the other one cleanly. (Tip: when cutting an elbow joint, make sure to cut a long enough piece on the elbow to make the half circle inside joint). I cut his hand off at the wrist, and cut him in half at the waist. (Note: much easier to do if you heat him first). I used a small drill to make holes in his wrists, lower torso, and hips. I then heated the plastic, then stuck screws into the wrists and hips with the points sticking out. (Note: you dont have to use pointed screws, but it's what I had on hand). I used a knife to cut out the centers of his feet to give him cloven feet. I washed the figure, then used sculpey to make the spider-emblems, hand pads, eyes and tongue. I had used sculpey on another custom but found the paint to be very slightly tacky. To solve this, I painted over the sculpey with a very very thin layer of Gorilla Glue. If it's thin enough, the glue dries clear without thickening or foaming. (Note: paint glue on sculpey before painting, if you use it over paint, it makes your paint job very shiny). The glue can be painted or drilled after it dries. I primed the figure, applied a wash to the legs of the emblems to darken them, and painted the eyes and symbols gun-metal grey, then dry-brushed the emblems, eyes, teeth, claws, and hand pads silver. After it dried I painted the rest of his body flat black, and painted the inside of his mouth with Clear Red.

I used hot water to soften the ends of the arms and head and reattached them to the body.
Lastly, I molded a tongue out of wire-frame and sculpey, used a tool to make taste buds and boiled it. I primed the tongue, gave it a black wash, and then dry-brushed the tongue with Clear Red to give it a fleshy pink color. The tongue fits inside his mouth and can rest inside without being attached.

Venom has articulation at the wrists, waist, head, and elbows.