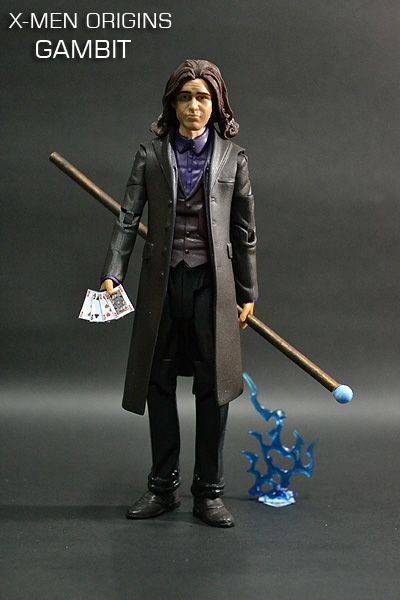 Remy Etienne LeBeau, the mutant who would become Gambit was abandoned at birth, by his birth father due to his unusual red-on-black eyes. He was stolen from a New Orleans orphanage by the Thieves Guild and given to Antiquary, a 'collector' of children, who considered Remy a perfect work of art. There he was given the name Remy and the title Le
Diable Blanc (The White Devil), because of an old Guild Prophecy that spoke of a white devil. However, Jean-Luc LeBeau greatly disliked the idea of the child being in Antiquary 's care and arranged for Remy to grow up being watched by a gang of street thieves known as Fagan's Mob instead. At age eight, Remy met and befriended a young girl named Bella Donna. A few days later, he was taken in and adopted by the leader of the Thieves Guild, Jean-Luc himself, after a failed pickpocket attempt which had been secretly arranged by Jean, which was a set-up to then meet with the young mutant.

His powers manifested in his teenage years, however he kept it secret from those around him. When Remy was 15, he went along with his cousin Etienne Marceaux on the Thieves Guilds ritual initiation called the "Tithing". The Thieves Guild was at war with the Assassin's Guild, but Remy was meant to be the one to unite the two guilds through an arranged marriage to the head of the Assassin's Guild's granddaughter, Bella Donna, whom he had befriended as a child years before.

For a time, Gambit traveled the world and lived as a professional thief. He also befriended the Marauder known as Scalphunter. As Gambit's power grew out of control, it was Scalphunter who directed Gambit to Mr. Sinister for help in controlling his mutant power. Sinister removed some brain tissue in order to reduce Remy's power to a more controllable level. In return, Remy owed a debt to Sinister, and he became one of his henchmen. He also had to put together a team of mutants that would become the Marauders.

For my custom Gambit, I chose the movie version, X-men Origins Wolverine portrayed by Taylor Kitsch. In this movie it was said that he earned the nickname Gambit because he constantly won money from the guards in card games. Gambit was portrayed slightly differently to the comic version, as he spoke with a New Orleans accent instead of his distinctive Cajun speech and his eyes appear human until he uses his powers, at which point they glow red. His powers were also notably different as when he uses his signature attack of throwing charged playing cards, the cards do not explode on impact but merely hit with much greater force, demonstrated when he knocks Wolverine through a brick wall. He is shown to be extremely agile and durable, as he takes a direct blow from Wolverine's adamantium enhanced fist to the face, only to resume fighting moments later with no ill effect, and is skilled in the use of a Bo staff.

Recipe:
Head: Mattel John Morrison
Base: DCUC Joker
Coat: TDK Joker
Staff: unknown figure

Made some major last minute adjustment with the head. It was supposed to be Jeff Hardy's head, painted the whole face and the eyes, but its no Taylor Kitsch. Goodthing I have a back-up head, John Morrison. Just had to sand off a small part of his chickbones. Quick photo shoot and it's done.

Thanks for looking!