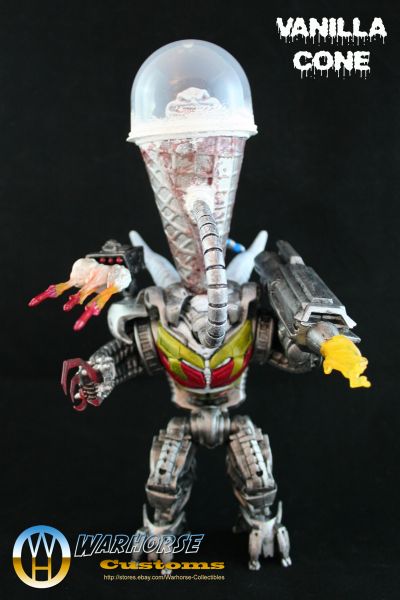 | | |
| --- | --- |
| Custom #: | 42780 |
| Name: | Vanilla Cone |
| Custom Type: | Action Figure |
| Toy Series: | Original |
| Creator: | Xysma Warhorse |
| Date Added: | September 16, 2012 |
| Base Figure: | Crysis 2 Heavy Alien Devastator Unit |
| Height: | 8.50 inches |
Little is known of the mutant now known as Vanilla Cone before he was discovered by The Professor's Collectors in a back alley of McDonaldland. An amorphous white blob with tentacles, he was barely discernible as a human being until the collectors noticed his fat, pompadoured head lying several feet away at the end of a grotesquely distended neck. His vocal cords were stretched so thin the only sounds he was able to produce were high pitched screams. The collectors took the creature back to the Professor, who was amazed that the being had survived the mutation. They began referring to him as Vanilla due to his white, amorphous appearance, and The Professor began work on a containment suit for the creature. The Professor soon discovered that Vanilla was somehow stuck in a state of perpetual mutation, the only solution was to maintain his body temperature below freezing. Beginning with a cybernetic exoskeleton to contain and protect the body, as well as provide limbs and movement. The next step was to create a support structure for the large head that could no longer be supported by the elongated neck. TO accomplish this goal, The Professor created a steel cone with a web of piping within to channel the coolant needed to halt the mutation. The constant sweating caused by the temperature differential caused the cone to rust, giving it a brownish hue that made the structure resemble and ice cream cone, and Vanilla Cone was born.

I was asked to branch out into the desert menu for a couple of customs, specifically Vanilla Cone, McFlurry, and Apple Pie. I decided to start with Vanilla Cone, because the concept stuck with me. My litlest daughter had a toy ice cream cone, so I decided to incorporate that, but couldn't figure out where to go from there. When I saw the Crysis figures at TrU, it immediately knew what I wanted to do, just had to figure out how to do it. I removed the head and drilled a hole in the top to insert the cone. Then I ran a clear plastic "stick" through the center, cut piece of craft plastic to cover the top, leaving the stick poking through the top as a peg to attach the head, then attached the top from a bubble gum machine ball. I used Tamiya liquid putty to further seal the seams and create a frost effect. I attached hoses from Apocalypse, Bane, and fodder, rigth hand came from a Tortured Souls figure, missile launcher from War Mahine, and flame effect came from a Green Goblin pumpkin bomb.