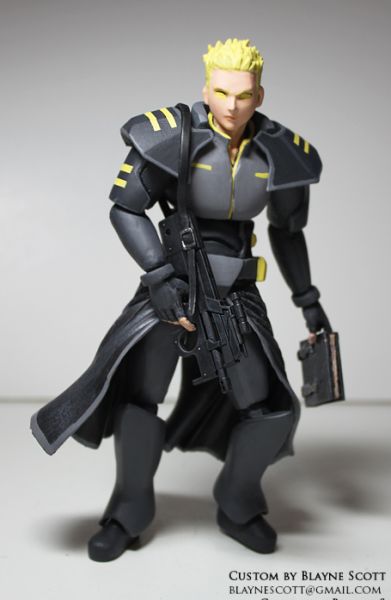 | | |
| --- | --- |
| Custom #: | 42912 |
| Name: | Norton, from "Star Ocean: till the End of Time" |
| Custom Type: | Action Figure |
| Toy Series: | Star Ocean |
| Creator: | blaynescott |
| Date Added: | September 20, 2012 |
| Base Figure: | Various |
| Height: | 6.00 inches |
| Completion Time: | 40.00 hours |
| Articulation: | 22 points |
"Norton was a Rezerbian fellon sentenced to 687 years on a deserted planet, though, due to engine trouble, he crash-landed on an underdeveloped planet, and devoted himself to taking it over. After being thwarted by Fayt and Cliff, Norton returned to guard floor 101 of the Sphere Company's tower, where again he is thwarted. Norton comes back in the stop motion series 'Metazine', only to try again at his former attempts..."

"Norton" is a frankenstien of different figures - literally, some cases. All parts were dremmeled down, and fully resculpted using Aves Apoxie Sculpt / Citadel Green Stuff.

Recipe:
-ML Monsters Box Set Frankenstien (pelvis/hips/thighs).
-HML Black Knight (partial thigh/lower legs, partial bicep & forearm)
-NECA Duke Nukem (partial forearms/hands)
-NECA Splinter Cell Sam Fisher (upper torso/double-ballsocket/partial lower torso)
-FF7: Play Arts Cloud (resculpted head/neck)
-FF Dissidia: Play Arts Gabranth (shoulders/partial bicep)
-Iron Man 2 Movie suitcase armor (flexible shoulder pads, attached with finish nails/superglue/epoxy)
-Sheet Styrene (shoulder pads/bicep pads - both shaped/reinforced)
-LOTR Figure (skirt)
-Lion, Witch & the Wardrobe Knight figure (partial lower legs/feet)
-Diamond Stargate Figure (Gun)
-FF:AC Play Arts Cloud (strap from 1/2 skirt used as weapon strap)

-Epoxy, and a bottle of "Mai-cure" Extra-thick Superglue, "Imported by Kroeger Inc.". It's a new type of superglue compared to the small squeeze-tubes I've been using. This stuff blows every other kind of gel-type super I've used out of the water. Since it's designed to hold machine parts together in remote controlled airplanes, I have little wonder why it works so well on custom toy projects.

-Painted with MR HOBBY lacquer paints/self leveling thinner + Vallejo Acrylics.
-Sealed with Krazyglue liquid-type Superglue & Vallejo Matte Varnish.


:: A note on articulated shoulderpads:
I actually went through three different prototypes of shoulderpad with this figure before the fellow who requested it was happy with the look/function. There's a disconnect between real-world physics, and videogame physics that allows polygons to intersect each other (i.e: shoulder pads that can pass through collars). I ran into this issue full-on, and wound up resolving the issue (articulated shoulder pads, that are game-accurate) by using a similar technique as my Extremis Armor Iron-Man from a few years back. Funny that it was a Movie IM figure that was used to accomplish this in the end.