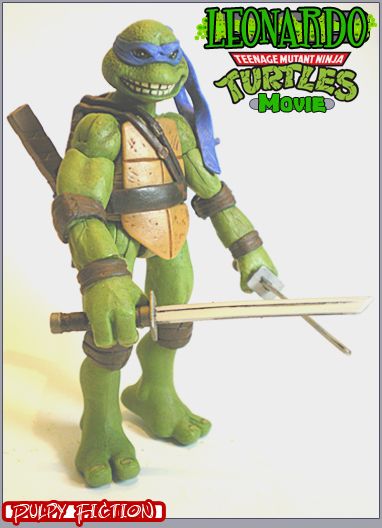 | | |
| --- | --- |
| Custom #: | 43364 |
| Name: | Teenage Mutant Ninja Turtles Movie Leonardo |
| Custom Type: | Action Figure |
| Toy Series: | Teenage Mutant Ninja Turtles |
| Creator: | pulpyfiction |
| Date Added: | October 6, 2012 |
| Base Figure: | Nic Donatello and TMNT movie Michaelangelo |
| Height: | 5.10 inches |
| Articulation: | 19 points |
It's been forever since I've posted. I've been super busy with work and a move. I've been doing a commission and I have an excess of green paint I mixed, and this custom seemed like a logical thing to do with that excess.

I've seen a lot of really good Nic Turtles repaints. Makes those figures so much better! I'm not a huge fan of the figures though. They are a bit small, and although I love the sculpt of them, I don't like the articulation.
The Nic turtles I have, I pulled apart to use. I love their accessories, and it's because of that, they made me want to do Movie versions of them. I'm always quick to check out fugazi's custom turtles, because he always makes exactly what he wants, and they look exactly the way he wants them too. That really inspired me to get to a figure I always wanted. Correct scale movie Turtles, well at least one to start! I'm waiting for parts to be delivered for... the rest.

I did Leo because I grew up on the comics, and Leo was always so wicked in those. If you haven't read the Leonardo one issue mini series in the Mirage books, well you missed the ultimate Turtle comic. He takes on the entire foot clan himself, and makes it out alive... barely. He's the man, er, Turtle. If you have seen the first film, the scene where Raph is jumped by the Foot clan, is a homage to that book.

Recipe:
Torso: Nic Donatello
Arms, Legs, and Bandanna knot and straps: TMNT movie Mikey
Head and back Shell: '91 Movie Star Leo
Swords and Sheaths: 2012 Retro Animated Series Leonardo
Knee and Elbow Pads: Pads Nic turtles, Bands Jakks Wrestler
Belt/Sword Strap: repainted Nic Leonardo - severed adjoining shoulder strap
Sculpted connection to front and back detail.

Hope you folks like it, and thanks for checking it out!

PS- Sorry about the photos. I haven't unpacked my usual lighting rig since I moved. I just really wanted to get this guy posted!