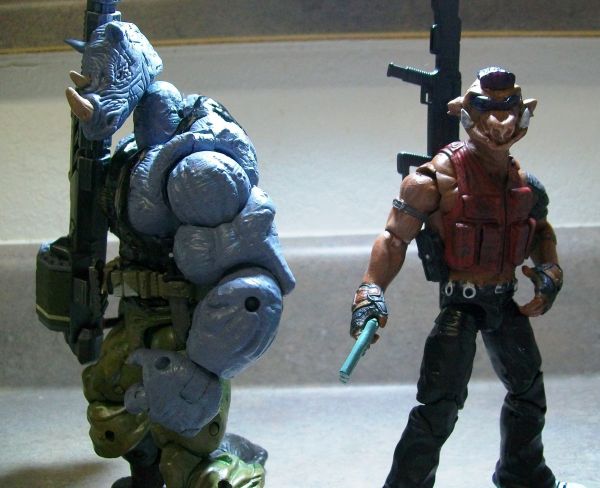 So Bebop and Rocksteady go together like Laurel and Hardy, Abbott and Costello, and other famous duos, as such I decided to post the two of these together instead of separately.

So to add to my current 6/7 inch Turtles, I decided to add a couple more bad guys. Rocksteady is made of a ML Maestro figure with a McFarlane Rhino action figure (I don't recall his name), I did have to lengthen his torso to look a little more filled out. Relatively simple for the most part. Bebop on the other hand was quite involved. Bebop's head is 100% original sculpt, his legs belonged to WWE R. Truth, his upper torso was a 200X He-Man torso, the shoes from Clown-Face, arms from Bulletstorm, and vest from a Battlestar action figure. Put these two together and the Turtles of my Universe get some truly tough punks to fight.

Mentioning said universe...backstory (constantly evolving, now essentially a follow up to the original cartoon series prior to Red Sky episodes). With Dimension X being sealed away, complete with Technodrome, Shredder and Krang still inside, and no likely way of returning to Earth, Bebop and Rocksteady were trapped on Earth. With no real guidance the two returned to their old gang's stomping ground. Their old gang being inducted into a newly formed gang called the Purple Dragons, led by a monster of a man called Hun. Hun realizing the usefulness of a couple of super-mutants gladly welcomed the two into his ranks, utilizing them in their most effective roles, that of dumb muscle. The Shredder put too much trust into the Mutants' intellect, Hun however didn't make that mistake, he had competent people for the important stuff, so when he needed a distraction or just some random violence he called in the mutants.

Hun: I have an important job for you two.
Bebop: Uh-Oh, we usually don't handle those real good.
Rocksteady: Yeah...important jobs aren't our strong suit.
Hun: Trust me, I think you two will do this just fine. I need a distraction to draw the police's attention away from the real target.
Bebop: Distraction?
Rocksteady: Yeah, we can do that.
Hun: I'm sure you can.