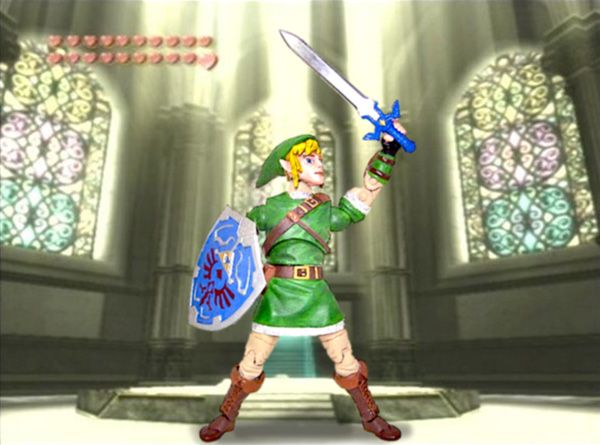 Hi Figure Realm! Didn't get many comments on my last few figures (razzum-rack'em-frack'em, stupid contest no comment rules, mumble-grumble . . . ), so I thought I'd post something amazing here to really get your attention. Check it out!

So, over the summer, I made several customs, many of which you guys still haven't seen because I'm saving them for upcoming contests. The last two months? I've been working on ONE custom. Pretty much exclusively, nothing else. Why so much time put into one toy? Well, that will become clear with my next post. For now, let me must introduce my latest (and possibly greatest) work. Realm . . . meet Link, the Hero of Time.

Contrary to my usual excessive explanation, I'm going to let the pics speak for themselves this time around. Just a recipe and I'll be done.

Body: Hasbro Marvel Legends Fantastic Four wave Doctor Doom
Arms & thighs: Mattel DC Universe Classics Richard Grayson Robin
Hands: Hasbro Avengers Movie Nick Fury
Lower legs: ToyBiz Lord of the Rings Legolas
Feet: ToyBiz Marvel Legends Face-Off Mandarin
Head, hat, instrument, scabbard, detailing: Original sculpt (particularly proud of the head here, and note the little Triforce bracers with the highlighted Triforce of Courage)
Chainmail: Silver ribbon
Sword, shield: Legend of Zelda necklace
Bow, arrow: Generic dollar store figure
Quiver: ToyBiz Lord of the Rings Aragorn
Chain weapons: Doc Ock claws, TMNT weapon handles, Lego chains, original sculpt

If you're a fan of Zelda, you MUST check out my next post. You're gonna be FLOORED.

I, ah . . . I usually end with a pithy, relevant quote or tagline, but there are only four really iconic lines from the Zelda series, and none of them are even REMOTELY relevant:

"It's dangerous to go alone! Take this."
"I am Error."
"Hey! Listen!"

And of course . . . .

"Well, ex-CUUUUUUUUUUSE ME, Princess!"