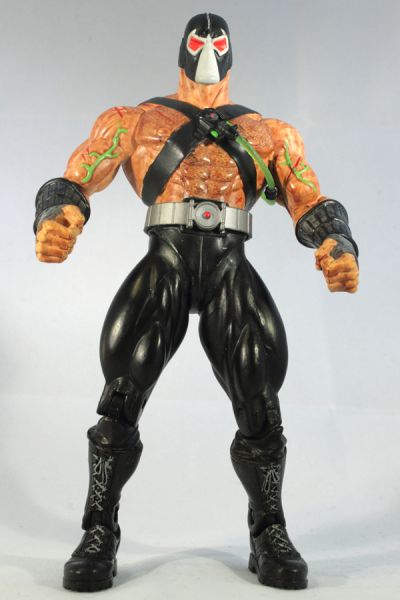 | | |
| --- | --- |
| Custom #: | 45601 |
| Name: | Bane |
| Custom Type: | Action Figure |
| Toy Series: | DC Universe |
| Creator: | Wookie |
| Date Added: | December 29, 2012 |
| Base Figure: | DCD Hawkman |
| Height: | 7.75 inches |
| Completion Time: | 8.00 hours |
| Articulation: | 18 points |
This is my first ever custom, so constructive criticism is more than welcome!

I was unhappy with all the Bane options available for sale, so I decided to make my own.

The base is a DCD Hawkman. I removed the head, wings, belt pieces, chest-symbol, and leg below the knee joint.

I dremeled off the sculpted on parts of the belt buckle, and then filled the wing-holes in the back with a two-part putty (green stuff), as well as a hole used to hold the original belt in place.

The lower legs are from a DCSH Bane (the one with the horrible wide stance). I popped the knee-pins and just swapped Hawkman's lower legs for Bane's. Some cutting was required for the fit to be perfect, but it was fairly straightforward.

The head, belt, and Venom system are parts from a DCUC Bane Build-a-Figure.

The belt had to be cut down to fit the waist (I'm a bit unhappy with the final fit... I ended up covering the seam line with a spare piece of the belt, and it shows. I display the figure facing front, so this part never shows.

The head needed to be bulked-up closer to the neck in order to fit properly, and this was accomplished with more two-part putty. I actually puttied the head directly to the neck, so there's no head articulation, but I like the way it ended up looking... like his neck is seriously pumped up with Venom.

I placed the Venom System in the middle of his chest because I always thought it was silly he would put it on his wrist. It seems a bit more accessible and protectable on his chest, plus it adds a nice bit of balance to the design.

After assembly I re-painted everything but the mask details and the belt. I used various washes to create the darker skin tone, as well as re-coloring his clothing and arm-bracers. I added red to the open wounds already on the figure, and green on the bulging veins to show the Venom coursing in his system. The laces on the boots were probably the most difficult part, and I tried to put a bit of a gloss sheen on the boots themselves, although I don't think it really shows that well.

The only things I'm really unhappy with are the patch-job on the belt (which is usually hidden from view) and a few points of paint-slop (which is to be expected on your first-ever custom paint, I would imagine).

There you have it. My first custom!