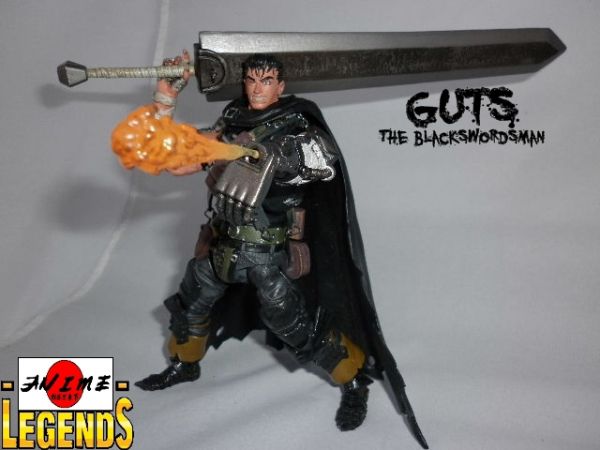 For your consideration in this "Way of the Sword" contest is my submission of Guts – The Black Swordsman from the anime / manga / Dreamcast game titled Berserk or Sword of Berserk.

The main character of Berserk is Guts, he is not a hero, he is not a villain, he is just man who fate spit on every chance it got from the moment he was born under his dead mother's hung corpse. Learning from a young age not to trust anyone, he took it upon himself to become a mercenary, as swordplay and killing were the only skill he had. Guts eventually settled down with a group young of mercenaries called the Band of the Hawk and their genius leader Griffith. After a horrific sacrifice that consumed a majority of the Band of the Hawk by the God Hand and their apostles, Guts made it his mission in life to destroy all the apostles and God Hand before they kill him as he was branded by the God Hand as a sacrifice thus evil creatures are attracted to him wanting to consume him same as his fellow hawk members. Guts has no fear of dying and fights like it, swinging his enormous Dragonslayer sword at any and all enemies. He is called the Black Swordsman by the apostles and their followers due to his black armor and cloak. A huge man in stature, his body is scarred from head to toe from all the epic battles he has fought and won. Guts fights back against his fate no matter how many of his bones are broken or how much of his blood is spilt, he will stand resolute against all enemies.

This Guts – The Black Swordman custom comes from my "made up" Anime Legends line, the custom was practically made from an import Berserk figure with adjustments to the custom's height (6.75 inches) and articulation (26 POA) to better fit in with Marvel / Dc 6" figures.

This custom was customized with the following parts:

Head, Upper arms, lower legs, cape, bandoliers, pouches, sword, throwing knifes, & left steel hand are from a Yamato 8" inch Art of War Berserk Guts figure.
Torso is from a DC Classics Ares figure.
Lower hands, crotch, and upper legs are from a TNA Kevin Nash by Marvel Toys.
Boots and feet are from a legendary heroes Wrarrl by Marvel Toys.
Some fodder parts, sculpting, and complete paint job was applied.

Thanks for looking and Happy new year to you all!!!