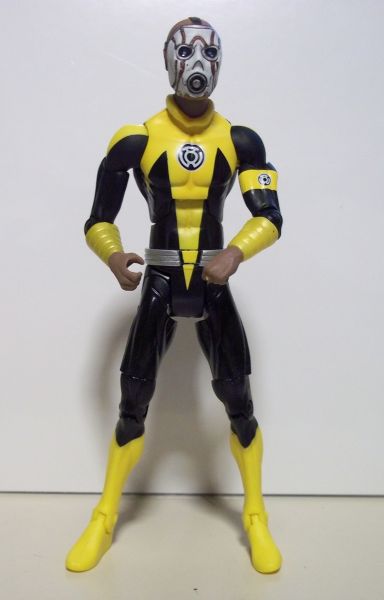 | | |
| --- | --- |
| Custom #: | 45813 |
| Name: | Sinestro Corps Member Saikol, Original |
| Custom Type: | Action Figure |
| Toy Series: | Green Lantern |
| Creator: | saber4734 |
| Date Added: | January 5, 2013 |
| Base Figure: | DC Universe Sinestro |
| Height: | 6.00 inches |
| Completion Time: | 5.00 hours |
Saikol comes from the mysterious, Earth-like planet known as Drolva. His real name is Devan Halte. He was a convicted felon serving a 10yr sentence for breaking and entering. And whether his intentions were violent or nonviolent, Drolvan law requires a minimum 10yr sentence for any crime. Devan was convicted and sent to Sledge Mine to serve his sentence.

Stories of Sledge Mine are spread throughout the Drolvan population. Stories of hard labor and harsh conditions. It is said convicts work 50 hours of a 90 hour day and hope to die within the other 40 hours. Suicide rates are high as well.

But there was more. Stories of hallucinations, delusions, and paranoia. Convicts going crazy and being physically mutated by the ore that was being mined. While it has never been fully revealed what was being mined, its effects have been well documented.

Devan survived his 10yr sentence in Sledge Mine, but not without it causing many adverse psychological effects. Dissatisfaction with his life, claustrophobia, depression, and most certainly madness. And one year after his release he went crazy, killing dozens of innocent civilians before being detained. Sentenced to life imprisonment, Devan was being transported to a maximum security prison when a Qwardian Power-Ring inducted him into the Sinestro Corps.

Upon his induction he did two things. He changed his name to Saikol, which loosely translated means "Psycho" in Drolvan. And he put on a mask. Saikol never required training within one of the fear lodges, as he had lived in one for 10yrs straight. Fellow Sinestro Corps soldiers say he can be quiet one minute and burst into psychotic laughter the next. And his psychotic nature tends to increase when in the presence of Green Lanterns. Perhaps the galactic police force reminds him of the guards of prisons. One doesn't need to be told when Green Lanterns are near. Saikol's homicidal cries will make that apparent.


Drolva Planet Fact: Habitable regions derive sunlight indirectly from the reflection of Drolva's moon. Drolva has a 90 hour day and takes ten Earth years to orbit its sun (one winter is seven earth years and a summer is three earth years).


Sledge Mine Fun Fact: The death toll rises to 90% during the winter season. It is said a death sentence would be preferable than being sentenced to labor in the Sledge Mines during the winter season.


Base Figure: DC Universe Sinestro
Head: Borderlands Series 1 Psycho Bandit. The strap to the mask was repainted black for more detail.
Hands: I simply repainted Sinestro's hands.
Details: Well while trying to remove Sinestro's head his peg broke. (profanity) So I really wanted to use the body but now I had a dillema. First I had to get the peg out of his neck. That took some slight cracking of the neck and some muscle. Then I found a peg from a DCUC character but it appeared Sinestro used a different peg. So it wasn't a simple fix. So with a little xacto cutting and some glue I managed to get a peg in place. The head can rotate as usual but it's tight. Either I'll have to pop it off and dremel some more or just never rotate it.


Administration won't allow me to post a seperate custom of just my entire Sinestro Corps. So picture 3 is my current Sinestro Corps. Minus Sinestro Corps member Banthua, who is currently in the fear lodge aka undergoing a makeover. lol

Created by me, Greg Bryant aka saber4734, to instill fear across the Universe.

"In blackest day, in brightest night,

Beware your fears made into light.

Let those who try to stop what's right

Burn like my power--Sinestro's might!"